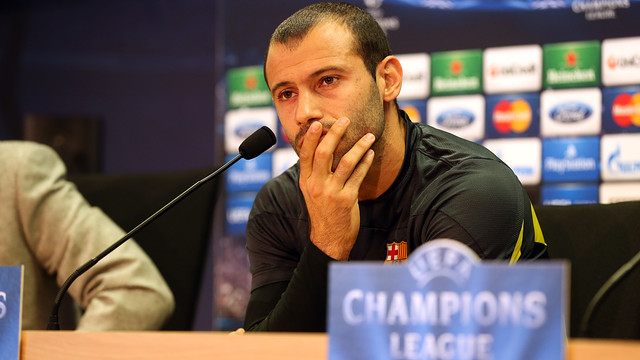 The Argentinean denied the team had been shaken by the Valladolid defeat and insisted that the Champions was the best possible stage to bounce back on.
"Despite their slip ups in the league, Javier Mascherano reckons it's far too early to write the team off, insisting: "we're not dead", and reminding reporters that the team are still very much in the hunt for the League, Cup and Champions League titles.
Mascherano was also adamant that the team hadn't been shaken by the defeat in Valladolid and that the players had been analysing the bad results they'd suffered in a very different way from the media: "they want us to think that all is lost, but that's just not so. The game against City is a good moment to show that ".[[CITA_1]]"We have a lead and we will try and take maximum advantage of that. We'll be true to our style of play and on Thursday we'll re-focus on the league – If we get back to our best, we have a chance of fighting for all three competitions"
Mascherano was also quick to defend coach Gerardo Martino: "this is the first year I have worked with him. He's a coach who has had to go through worse than two defeats in 15 days. I think we both come from somewhere that things are much more dramatic than here".[[CITA_2]] "He is a coach who may not be a big name for some of you, but he has been in this job for 15 years and everything he has done, he's done himself, nobody's ever given him anything for free. He had to leave Argentina to make his name and he did it, went back and was a winner there too. As a coach he nearly knocked out the champions at the World Cup. We don't underestimate him – once you start to do that you are lacking respect".
They want us to think that all is lost, but that's just not so
Everything Martino has done, he's done himself, nobody's ever given him anything for free