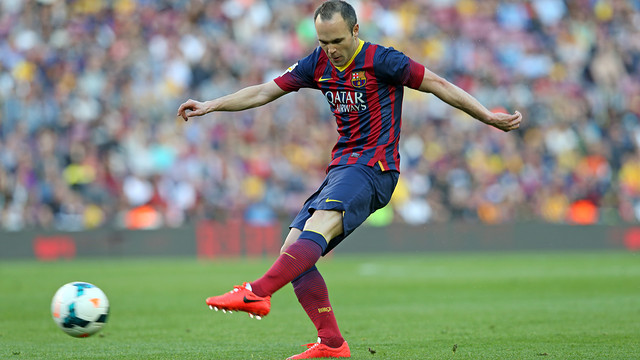 In an interview with Spanish radio station SER, Iniesta insisted "we have to win at the Bernabeu".
The Spanish midfielder believes he's coming back into top form at just the right moment
In an interview with the "El Larguero" programme on the Spanish radio station SER , Andres Iniesta was positive about his own form going into the business end of the campaign: "you go through different moments during a season, but since I came back from my injury at the start of the year, I've felt really good. We're into the final straight and you have to be at your best for that. It's not been a comfortable season at times, there's been a lot of change going on around the Club, but the players have to stay on the margins of all that".
Iniesta also explained the importance of the win against Osasuna ahead of Sunday's big game: "we had to change the image we gave at Valladolid. It's always more positive to go into a game like Sunday's after a good result – it helps you believe we can go there and win".
"We have to win at the Bernabeu"
Looking forward to the Clasico, the Spanish international insisted: "the truth is that if we want to maximise our options of retaining the league title, we have to win at the Bernabeu. Madrid are leaders and have some of the best players, but form doesn't always count in these games".
The Clasico has often boiled over in the past, but Iniesta reckons this year will be about football, rather than ill-discipline: "they are always a difficult team to beat, but I don't think that we'll see the same tension of a few years back on the pitch. It'll be a war, but a footballing war and we mustn't step over that line".