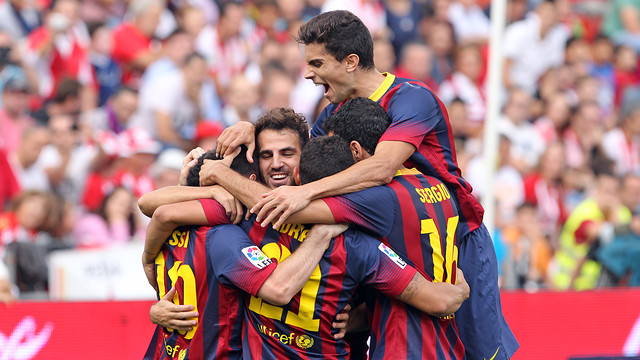 9 pm, Canal +: Almeria comes to the Camp Nou to face a Barça team that needs to get back to winning ways in the league
Pinto is out with back pain but Jordi Alba makes a welcome return
The players and coaches of FC Barcelona have spent the past few days rebuilding their confidence after last weekend's disappointment. This Sunday, Barça takes on Almeria in the Camp Nou (9 pm, Canal +) with a two-fold objective – a good performance and the three points. After coming away from the Anoeta empty-handed, Tata Martino's players know they cannot afford to drop any more points in the race for the league title.
FC Barcelona is currently second, tied on points with Atlético Madrid but three points adrift of leaders Real Madrid. However, with Barça's two rivals meeting in the Madrid derby in the hours leading up to the Almeria match, Martino's message is clear: "If we do our job and win, any of the three results in the derby can be favourable for us".
Alba in, Pinto out
The Barça squad has been boosted by the return of a fully fit Jordi Alba. On the down side, José Manuel Pinto has failed to recover in time from back trouble and joins Piqué, Cuenca and Dos Santos on the injured list. Montoya, Sergi Roberto and Afellay all miss the cut for the final squad.
Speaking at Saturday's pre-match press conference, Tata Martino told reporters: "I have complete confidence in a good reaction because the team is very self critical". And with the race for the league title locked in a tight three-way battle, Barça cannot allow another setback like last week's defeat in San Sebastian.
A glance at the record books will tell you that Almeria has travelled to the Camp Nou for four league matches in the last ten seasons – and lost all four. Earlier this season, Barça also took all three points in Almeria thanks to goals from Messi (who immediately went off injured) and Adriano.