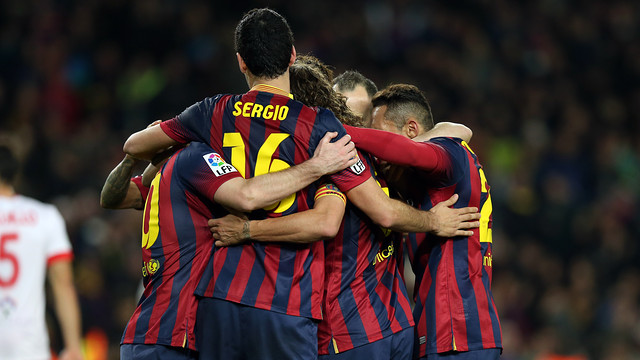 FC Barcelona is the top scoring team in the major European Leagues
Barça are the second team with most different goalscorers in all competitions

FC Barcelona leads the standings of teams scoring most goals in the major European Leagues, with a total of 74. Here we show, via 5 stats, these and other details from the Continents top scoring team.
1) LEADERS IN EUROPE. With 74 goals FC Barcelona lead the ranking. Real Madrid and Liverpool come next with 73, whilst Bayern Munich (66), París Saint-Germain (64) and Juventus (62) top te rankings in other major European Leagues.
---
2) 2.8 GOALS PER GAME. Gerardo Martino's players have reached this total in 26 League matches, an average of 2.8 goals per game. It's the same average, more or less, as Bayern Munich (66 goals in 23 games) and Real Madrid (73 goals in 26 games). Liverpool have an average of 2.6 and PSG and Juventus 2.3.
---
3) THREE PLAYERS WITH MORE THAN 10 GOALS. Alexis Sánchez (16 goals), Leo Messi (15) and Pedro Rodríguez (13) are the three players with over 10 goals in La Liga. The list goes up to five players, including Cesc and Neymar Jr, if we include all competitions.
---
4) 15 DIFFERENT GOALSCORERS. a total of 15 different players hae scored for Barça this season in official competitions. They are Messi (27), Alexis (18), Pedro (17), Cesc (13), Neymar (12), Tello, Xavi, Adriano, and Piqué (all with 4), Busquets and Alves (with 3), Puyol (2), Bartra, Iniesta and Dongou (all with 1). In Europe only Arsenal and Ajax, with 16 different scorers, have more than Barça. AC Milan and Bayern also have 15 different scorers.
---
5) 45 GOALS IN 2014. FC Barcelona is the team which have scored most goals in Europe at the beginning of this year. They have scored 45 goals in 16 games, which is greater than the 42 goals scored by Real Madrid, Bayern Munich's 41, the 38 scored by City and the 34 by Liverpool. In the case of the last 3 teams it has to be said that they have played less games than Barça and Madrid.