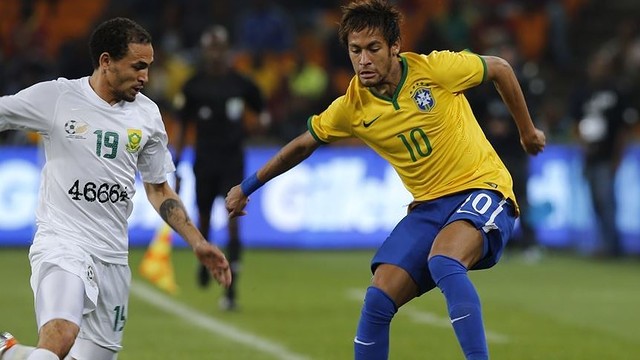 The Barça striker put in the stand out performance of Wednesday's international games.
Pedro Rodríguez was also on the scoresheet, bagging the winning goal in Spain's 1-0 win over Italy
Neymar Jr put in the stand out performance of the Barça players involved in international games on Wednesday, scoring a hat trick in Brazil's 0-5 demolition of South Africa in Johannesburg. Pedro scored the only goal in Spain's win over Italy in Madrid.
Below we look at the performances of the Club's players in the World Cup warm ups:
South Africa 0-5 Brazil. Neymar played the full 90 minutes and scored goals number 2, 3 and 5 – Oscar and Fernandinho got the other two. Dani Alves started on the bench and replaced Marcelo for the last half hour.
---
Romania 0-0 Argentina. Javier Mascherano and Leo Messi both played the whole match against Romania in Bucharest. The hosts looked the stronger in the first half, but the Argentineans came back into the game after the break with City's Aguero enjoying the best chances and looking sharp.
---
Germany 1-0 Chile. Alexis Sanchez also played the full 90 minutes in Stuttgart, where Chile – one of Spain¡s group rivals in Brazil this summer – went down to a first half goal from Götze al primer temps. Vargas hit the woodwork after the break and Chile probably deserved more from a solid all round performance.
---
Portugal 5-1 Cameroon. There was little Alex Song could do to stop a rampant Portugal. The Barça man played the first 65 minutes, whilst B team youngster Bagnack, didn't feature.
---
Spain 1-0 Italy. Pedro scored the goal which separated the two previous World Cup winners after a lovely move between Iniesta and Silva in the second half. Five Barça players started the game at the Vicente Calderón (Alba, Busquets, Cesc, Iniesta and Pedro). Valdés came on at half time, whilst Busquets and Cesc were taken off and Xavi sat out the game. Alba was the only Barça player to play the whole 90 minutes