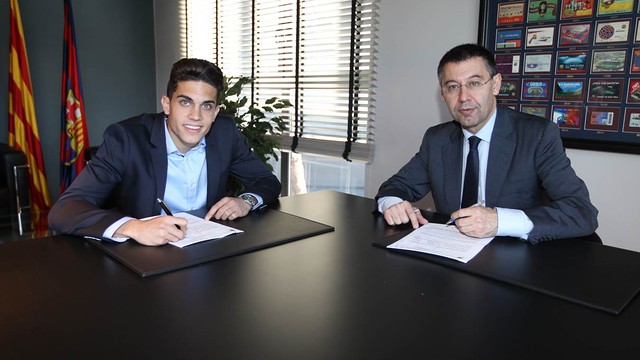 Club President Josep Maria Bartomeu and Bartra signed the deal in the Club offices this lunchtime that will keep the player at the Club till June 2017.

Accompanied by Club President Josep Maria Bartomeu, sporting vice-president Jordi Mestre and Director of Football, Andoni Zubizarreta, Marc Bartra signed a contract extension with the Club this lunchtime to keep him a Barça player until June 2013. The new deal includes a 25 million Euro get out clause.
The 23-year-old Bartra joined the Club as an eleven-year-old and worked his way up through the academy and Barça B teams before signing a first team contract in the 2012/13 season.
After putting pen to paper, Bartra admitted: "I'm very happy. It's a great feeling and I hope everything continues to go as well as they have done in my time at the Club so far. For me, Piqué and Puyol are my reference points – it's a challenge to me to achieve what they have . Establishing myself in the team is a big test, but I am getting there"
Finally, Bartra gave his views on Sunday's Clasico: "we are going into it with a lot of ambition. It's such an important game psychologically and we will be going all out for a win"