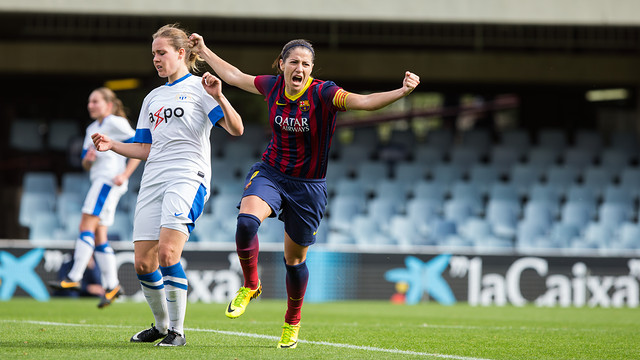 FC Barcelona and Western New York Flash have reached an agreement for the transfer of Vicky Losada to the US franchise on March 15
The Ladies A team captain will be playing for one of the strongest clubs in one of the most competitive championships in the world
FC Barcelona has appreciated what this opportunity means for the player and has done all it can to support the move

Vicky Losada is off to the Western New York Flash after the National Women's Soccer League club reached an agreement for her transfer from FC Barcelona. The FCB captain will be heading for Buffalo, the city where the club is based, on March 15 in time for the start of the regular season, the date on which the US franchise's federative rights to the player will come into effect. This means that the games against Transportes Alcaine, Levante Les Planes and Levante will be the last Vicky plays for Barça this season.
The club fully appreciates what a marvellous opportunity this is for the Terrassa-born player and has done all it can to support her with the move, wishing her every success with this exciting new stage of her career. After five years at FCB, this is a step upwards for Vicky into one of the strongest clubs in North America, and by extension, the world. She thus becomes the first FCB player to progress into the NWSL, considered one of the strongest competitions in the ladies game.
Sweet moment
Vicky Losada has played an important role in the growth of the FC Barcelona women's team in recent years. She returned to the club in 2008 from Espanyol, and since then has led FCB to its only two Superliga titles, as well as two Spanish and four Catalan cups.
Vicky was made team captain this season and led the team to its best ever performance in the UEFA Women's Champions League, reaching the quarter finals, to be played in March against German side Wolfsburg.
Western New York Flash
Losada will now be plying her trade with the Western New York Flash, from Buffalo, NY, who won the regular season last term and in 2012 were runners-up in the WPSL Elite Championship.
At the Flash she will be playing alongside one of the best female players in the world, US international Abby Wambach. She will be joined in attack by another Spaniard, Adriana Martín, while the assistant coach at the club, Pedro Losa, also hails from Spain.