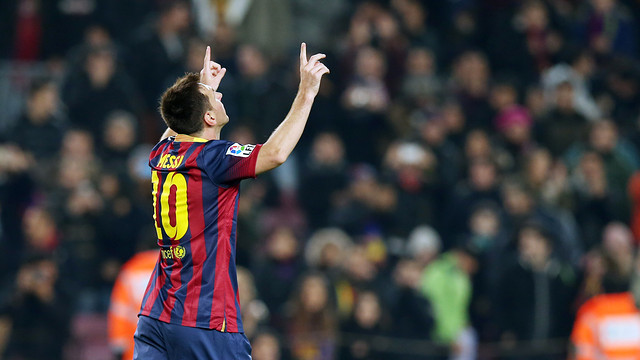 The Argentinean has scored a goal every 80 minutes since he started the year, notching up 31.6% of Barça's goals in 2014

Leo Messi just keeps on scoring and since he has returned from injury he's scored 12 goals in the 13 matches he has played in 2014. That means a goal every 80 minutes and represents 31.6% of the team's goals since the start of the year. Alexis Sanchez has scored 9 since the turn of the year and is just behind Messi with the two totalling 22 -55.3% of the team's goals this year.
Chasing down Hugo Sanchez
Messi's goal in Anoeta made it five games in a row that he's scored and took him past Raul Gonzalez in the all time goal scorers list. He has also overtaken Raúl González in the all time top goalscorers list in the history of the first division. The Barça number 10 is third in the list with 229 goals, behind just Telmo Zarra (251) and Hugo Sánchez (234).
In the 2013/14 season, Leo Messi has so far scored 26 goals in 29 games – an average of 0,90 a game compared to his number in previous campaigns: 1,2 goals a game in 2012/13, 1,22 in 2011/12, 0,96 in 2010/11, 0,89 in 2009/10 and 0,75 in 2008/09.