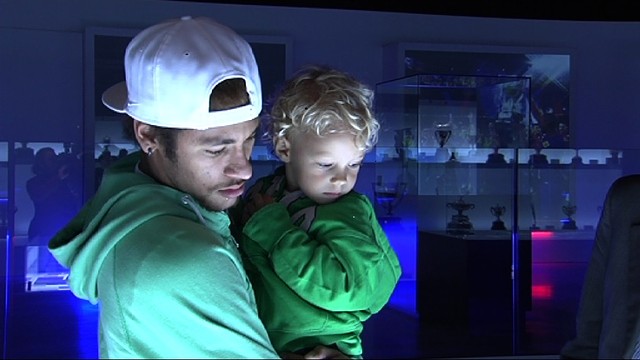 The Brazilian discovered the history of the Club on his visit to Catalonia's most popular museum
New contents
The Museum is one of the Club's most important assets and its exhibits are constantly being updated. The extension of the space dedicated to Leo Messi, with his third Ballon D'Oro and a video of all his goals for Barça, is the latest improvement to the Museum, as well as a new 10 minute film which brings together the highlights of the last 10 years from Ronaldinho to Neymar.
[[DES_1]]The best way to know the history of the Club, its singularity and importance is to visit the Museu del FC Barcelona. Neymar Jr has done just that and now he not only knows what it's like to score at the Camp Nou, but also what it means to be a player at a Club with 115 years of history ."It was a lovely moment to experience", explained the Brazilian , after his visit to the Museum accompanied by its director Jordi Penas, a few friends and his son,
Davi Lucca.
The Brazilian visited the Barça Museum Camp Nou Experience for more than an hour and got to see many of the most important exhibits on show, including the trophies won by the Club, Messi's four Ballons D'Or and three Golden Boots, Stoichkov's Ballon D'Or , Maradona's Barça shirt, the boots Koeman wore when he scored the winner to give Barça their first European Cup at Wembley in 1992 and those worn by Belletti when he scored the winner in Paris in 2006.
Neymar also saw videos of goals scored by his compatriots Ronaldinho, Rivaldo, Ronaldo and Romário and explained: "here at the Museum I was able to see players I have never seen play live ".[[CITA_1]]
Neymar also visited the second floor of the Museum, where he enjoyed the Multimedia Area which boasts 11 giant screens combined to make a single 40×3 metre wall showing some of Barça's most important goals and the interactive tables which show 200 unforgettable moments from the Club's history
Neymar's signing was announced nine months ago and you can see his first goal for the Club – a header at the Vicente Calderón in the first leg of the Spanish Super Cup – at the Museum, a place all Barça fans should visit and which is, of course, free to Club members.
Here at the Museum I was able to see players I have never seen play live