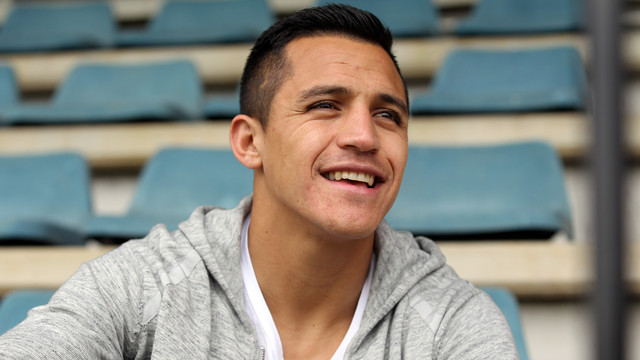 The Barça forward explains why he wears number 9 and what he misses most about Chile and Italy, where he played previously
A family man, he has a predilection for horror films and shows little interest in social networks

630,000 views
A vídeo of some technical skills by Alexis Sánchez at a training session generated over 630.000 views in less than three months on FC Barcelona's official YouTube channel. "Any player can do it. They are times when you play some games, you enjoy yourself on the pitch, you relax a bit. Or you talk about personal things with teammates",he said. It's no wonder that he does some ball juggling at the end of training, on his own or with other players. "Before I was more physical, but now I have to be more technical", according to the Chilean.
In the first part of his interview at www.fcbarcelona.cat Alexis Sánchezfocussed mostly on footballing aspects, and now we see his more persoanl side. Despite his well known shyness, the Barça forward is relaxed and spontaneous when talking about personal things. Why the number 9? What does he miss about Italy, where he played from 2006 to 2011?. How does he get on in the changing room?. Does he use Twitter?. The answers below:
Why do you wear the number 9 shirt?
"They told me the numbers that were available at Barça. As I am a great admirer of the Brazilian 'Phenomenon' Ronaldo, I wanted to wear the same number. He wore number 9 here, and was very successful, so I wanted to emulate him".
Have you had many role models?
"My mother. The only idol I have is my mother".
What do you most miss about Chile?
"My family, the food, and at times the people. However, I've adapted really well to Barcelona and I'm very happy here".
And Italy?
"The food more than anything. You eat really well there and earlier. Over there dinner is at 8 or 9, and here, at 10, but you get used to that".
Are you tired of being reminded about your phrase 'I'm a great player'?
"I'm not sure about being tired of it, pero I realised that you have to be really careful what you say in interviews, and even more so when you're at a great team like Barça, where every little detail is analised".
Do they still call you 'Cachai' in the changing room?
Yes, sometimes 'Cachai' and other times 'Alexis'… it means "do you understand?'. The first day I arrived, and as it is widely used in Chile, it sort of stuck. Now I don't use the word 'cachai' any more, now I say 'know what I mean?', so they can stop bugging me!".
Which dish have yoiu discovered since your arrival in Barcelona?
"I love Paella. I eat it whenever I can".
On occasions you've mentioned that you like the cinema. What sort of movies are you interested in?
"We watch movies at home, and quite often we watch horror movies together. I can't remember the last film I saw at a cinema, although I would really like to go some time".
What music do you listen to?
"A bit of everything. Salsa, 'reggaeton', cúmbia… depending on the moment".
A lot of your teammates use social networks. Do you have any plans to start using them?
"I'm not a real fan of Twitter or Instagram. At first it's fun, but later it's tiring and boring because you have to be tied to your mobile all day".