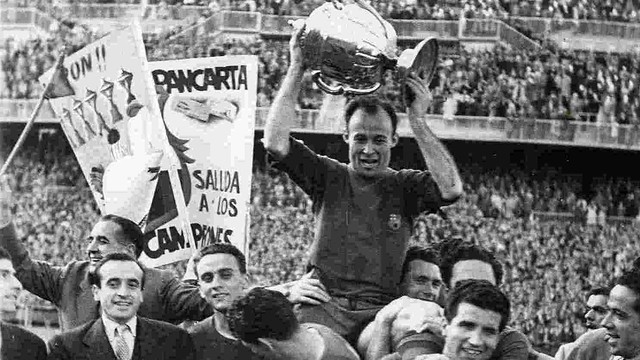 Barça and Real Sociedad have faced each other 30 times in the Spanish Cup, including four finals – all won by the Catalans
The first Cup meeting took place more than 100 years ago and the most recent in 1990
Jagoba Arrasate lost 4-1 in the last league game between the two at the Camp Nou
League wins
The Basques visited the Camp Nou in week six of this year's league campaign, losing 4-1 to goals from Neymar, Messi, Sergio Busquets and Bartra, with De la Bella scoring for the visitors.
Wednesday's Spanish Cup semi final first leg game will be the first time in 24 years that Real Sociedad and Barça have met in the competition, though the two sides have a long history of Cup matches stretching for over a century.
Of the 30 games between the two, Barça have won 19 games, Real just 3 and 8 have been drawn. Amongst those games are four finals – all won by Barça – and the Basques have only managed to get through to the next round twice.
Century of history
Barça and Real Sociedad first played against each other in the Spanish Cup Final in the 1912/13 season when they drew 2-2, which meant a replay – that also ended in a draw (0-0), before Barça finally won the third game 2-1. In the 1928 final, the same story was repeated with Barça taking the title after a 1-3 win following two 1-1 draws.
The two also met in finals in 1951 and 1988, when Barça won 3-0 and 1-0 to take the titles.
24 years later…
The last time Barça played Real in the Cup was 24 years ago, when they came up against each other in the 1989/1990 quarter finals. A goal from Salinas gave Barça a 0-1 win in San Sebastian, whilst the return match at the Camp Nou finished 3-3 after extra time, with Bakero and Laudrup (2) getting the goals.