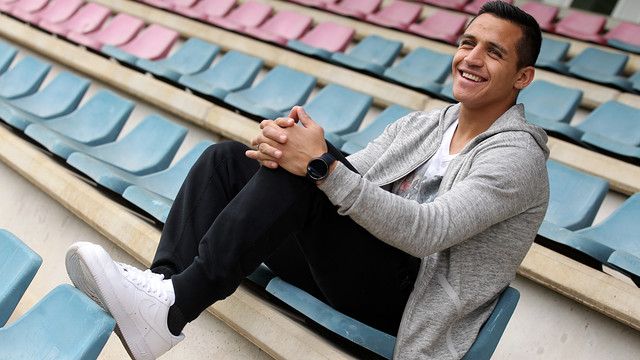 The Chilean striker is having his best season coming to FC Barcelona in the summer of 2011
He reckons he is still adapting to the team and has changed his style of play
Despite facing fierce competition in attack, Alexis Sánchez is enjoying his highest scoring season since coming to Barça in the summer of 2011. Only Messi (26) has a higher tally than the Chileans (17). The 25-year-old is feeling more mature and confident than ever. Martino knows what he wants from him, and he delivers. In an exclusive interview with www.fcbarcelona.cat before the match away to Real Sociedad, the striker explained what it is like to be at Barça, with special emphasis on the present.
When you signed for Barça, you described yourself as a 'street footballer'. Was it easy to adapt to such an academic system as the one employed by this club?
"Barça is a very special team that has to play like Barça. I played in Italy before and it was different there. I came here and I have been adapting ever since".
How has Alexis changed from the way he was at Udinese?
"I attacked any way I could before. I'd always take players on. Now I have to read each situation, to take players on but make sure I don't lose the ball. They're the kind of things the team and the club demand".
You have had three coaches in three years. Has this been positive or negative on a personal level?
"A player matures with different managers, they teach you things. It's a shame there have been managers that have had to leave because of personal issues. I was happy to work under them and to learn from them".
You scored 15 goals in your first season, 11 in the second and 17 so far this season. Is it a matter of confidence?
"I think so. Confidence makes the player. If a player is 100% confident on the pitch, he can do what he knows how to do".
What does Martino ask from you?
"Pressure, to create goalscoring chances, to take players on … That's what I try to do".
You hinted that you'd 'explode' this season. Do you think you have?
"I never said I was on the point of 'exploding' or that I would 'explode', I said I'd do the best I can. Every game I play I'm disappointed because sometimes I feel I can give more than I do on the field and it leaves a bitter taste in the mouth".
How did you feel after the clásico?
"People liked the fact that I scored against Madrid. It's everybody's dream. It filled me with pride and it's something I'll always remember".
What made you happier? To score a great goal in the clásico or get a hat-trick like you did against Elche?
"The game with Madrid. It's a clásico. Every boy aged five dreams of playing in that match and scoring the winner with the whole stadium cheering you. It was very special".
Will we see you taking more free kicks?
"There are some very good takers here, but if they offer me any more chances, I'll take them and try to score".
What about the competition with Pedro?
"We try to improve with every game, there's no competition between me and him. We try to add to the team, because at the end of the day, if we win the championship, we'll all be champions. If he scores or I score, it's for the team, it's not about competition. But we do want to make the eleven and do as good a job as possible".
You seem very close to Neymar. What bonds you?
"Apart from being a spectacular player, what I like best is how joyful he is both on and off the field. He's always in a good mood, he never gets angry. I like that in people, they make you happy".