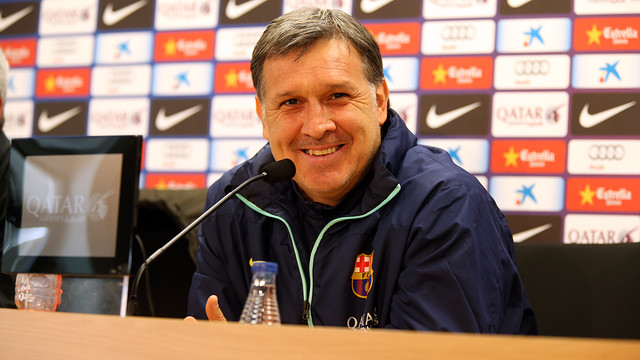 The Argentinain insists that his team should remain fully focussed on Getafe and take the last 70 minutes of the most recent encounter with the same side as a reference
He has spoken to Messi, who is feeling better than ever after taking part in training sessions this week
He also confirmed that José Manuel Pinto will be the keeper for cup matches, and that Bartra, Xavi and Alves have been dropped as precautionary measures
On the day before the first leg of the cup tie with Getafe, Gerardo Tata Martino has spoken to the press about its importance. "We have to focus on this match" he said. "There is no room for error in the Copa del Rey. We want to stay in the cup and so we have to win. We still have Thursday and Friday to worry about Atlético Madrid".
Martino pointed out that everyone remembers what happened when they recently met Getafe in the league, and went 2-0 down in the first quarter of an hour. "We have to play like we did for the last seventy minutes and make sure there are no lapses in our concentration", he insisted.
"From here on comes the most difficult part of the season. We will try to keep things the same and maintain our high standard of football".
One in and two out
One of the biggest attractions of the match will be the return of Leo Messi from a 58-day absence through injury. "I have spoken to Leo and he says he's ready to play" said Martino. "He's done his training and now what he has to do is play a match … But with injuries, you first have to get over them physically, and then you have to get over them mentally".[[CITA_1]] Martino also spoke about the injuries to Marc Bartra, Xavi Hernández and Dani Alves. On Bartra, the news is that "he got hurt but tests didn't detect anything wrong, but it's best not to risk things. Instinct tells me that we should be cautious. It's a similar thing with Xavi, with the soleus trouble he's been having since last season." And as for Alves, "I haven't spoken to him, but he hasn't looked right to me since he came back with flu. He needs a few more training sessions".
One player who will certainly be appearing against Getafe is goalkeeper José Manuel Pinto, who Martino has confirmed will be the first choice goalkeeper for Copa del Rey matches this season.
I have spoken to Leo and he says he's ready to play. He's done his training and now what he has to do is play a match