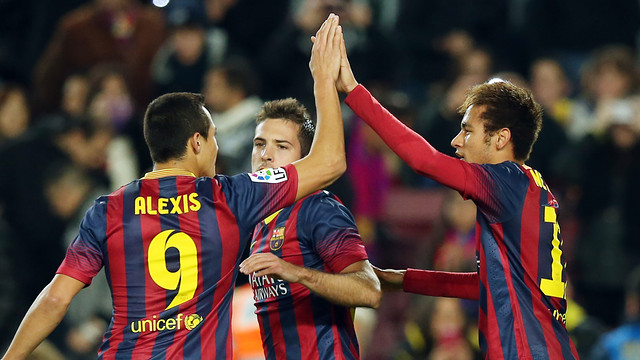 The game against Seville will be on February 9 at 21.00, the Rayo match is set for Saturday February 15 at 20.00 and the team will face Real Sociedad on Sunday February 23 at 21.00.
The LFP have announced the kick off times for the league games in weeks 23, 24 and 25.Barça will visit the Sanchez Pijuan on Sunday 9 February to play Seville at 21.00. Six days later – Saturday February 15 – Rayo Vallecano visit the Camp Nou, with the kick off set for 20.00.
Finally, on Sunday 23 at 21.00, Barça will be at Anoeta to play Real Sociedad.
Upcoming games
Levante – FCB (22/01/2014, 22.00)
Spanish Cup
FCB – Malaga (26/01/2014, 21.00)
League
FCB – Levante (29/01/2014, 22.00)
Spanish Cup
FCB – Valencia (01/02/2014, 16.00)
League
Seville – FCB (09/02/2014, 21.00)
League
FCB – Rayo Vallecano (15/02/2014, 20.00)
League
Real Sociedad – FCB (23/02/2014, 21.00)
League