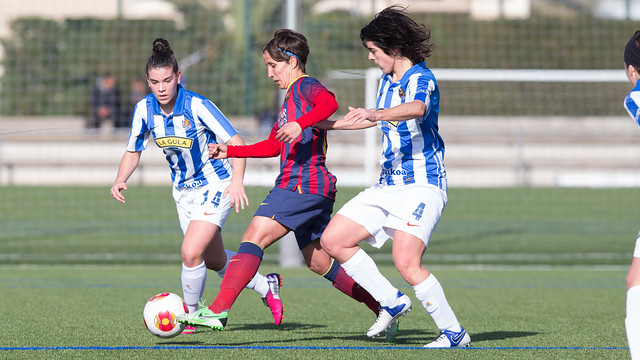 A last gasp goal from Míriam gave Barça a draw after Real had taken the lead in response to Sonia Bermúdez's opener
The draw means Barça are still unbeaten with 14 wins and 3 draws
STATS
Femení A, 2
Reial Societat, 2
Femení A: Ràfols, Unzué, Torrejon, Ruth, Melani (Lau, min 66), Romi (Vicky, min 53), Corredera, Miriam, Jelena (Hermoso, min 53), Sonia and Alexia (Karol, min 72).
Reial Societat: Cristina, Ainhoa Vicente (Idoia Agirre, min 66), Ane Bergara, Ainara, Itziar G., Itxaso Uriarte, Sandra R., Nahikari Garcia, Leire Baños and Aintzane Encinas (Eguzkiñe Peña, min 66).
Goals: 1-0, Sonia, min 47; 1-1, Aintzane, min 66; 1-2, Nahikari, min 72; 2-2, Miriam, min 89.
A last minute equaliser from Miriam kept Barça's unbeaten league record intact, after Real Sociedad had come back to take a 1- 2l ead following Sonia's opener.
Real take the lead
After a goalless first half, Barça scored first on 47 minutes when Sonia, who had hit the woodwork and seen a good penalty shout turned down before the break, found the net to give them some reward for their dominance, but Real Sociedad hit back with two quick strikes from Aintzane, and Nahikari to take the lead.
Late equaliser
Barça now laid siege to the Basques' area and Sonia was again denied by the woodwork on 81 minutes, before Miriam managed to put away a late chance to keep the team's unbeaten record intact.