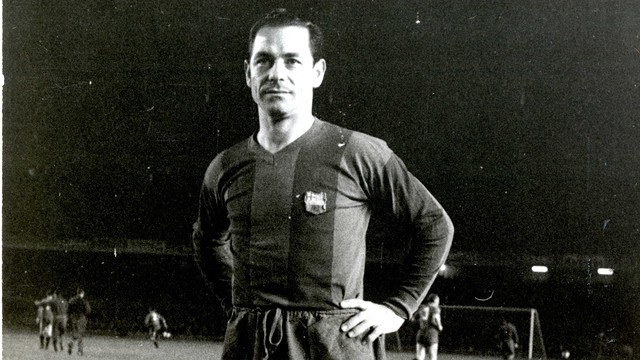 He was in the Barça first team for 14 years and played 470 games, scoring 133 goals
Playing at full back, he was one of the key members of the famous team of the Five Cups
In 1969/70 he acted as caretaker manager between Salvador Artigas and Vic Buckingham
Last night, Josep Seguer Sans passed away at the age of 90. Then former Barça star's funeral will be on Friday at 12.00 in l'Hospitalet de l'Infant. Born in Parets del Vallès (Barcelona) on May 6, 1923, Seguer dedicated a large part of his life to FC Barcelona after joining the club's amateur team in 1940 from CF Parets.
After going on loan to Granollers in 1942/43, he returned to FCB, and remained in the first team for fourteen seasons (1943-1957), playing 470 games and scoring 133 goals. He also had four international caps for Spain. He started out as a midfielder, and it was from that position that he helped the team to several titles in the forties. But Seguer was famously versatile, and played in several other positions before eventually settling for full back.
Star of the Five Cups
Seguer was both strong and skilful, and it was never easy for opponents to predict his next move, earning himself the peculiar nickname of 'Diesel' because of the incredible amount of ground he would cover during a game.
In 1951/52, under manager Ferdinand Daucik and alongside the great Ladislau Kubala, Seguer was one of the mainstays of the famous team of the Five Cups, playing in defence next to Biosca and either Martín or Segarra, in that wonderful team of closely-knit friends, most of whom were locally born, and who all used the Catalan language to communicate.
By 1956/57, Seguer was becoming a veteran and struggling to hold his place in the team, which is when he decided to end his long spell at FC Barcelona. At Barça he had won five leagues (1944/45, 1947/48, 1948/49, 1951/52 & 1952/53), four Spanish Cups (1950/51, 1951/52, 1952/53 & 1956/57), two Latin Cups (1948/49 & 1951/52) and two Eva Duarte Cups (1948/49 & 1951/52).
Caretaker between Artigas and Buckingham
But Seguer did not leave football after FCB. He signed for Betis, where he became player-manager in 1958/59. He then did the same at Manresa, before coaching the FC Barcelona amateur team for three years from 1961/62. From November 1961, he was assistant first team manager to Ladislau Kubala, and remained in the post until the 1963/64 season, where he was also assistant to Josep Gonzalvo and Cèsar, while also coaching the amateur side. In 1964, he left to manage Lleida, and after that Terrassa, before returning to Barça in 1969 to coach the reserves, known at the time as El Condal. But just five games into the season, following the dismissal of first team manager Salvador Artigas, Seguer stepped in as caretaker manager until the arrival of Vic Buckingham in January 1970, under whom Seguer served as assistant.
In 1970, he became the first manager of Barça Atlètic, the new FCB reserve team following the merger of El Condal and Atlètic Catalunya. He remained in the job until the 1971/72 season