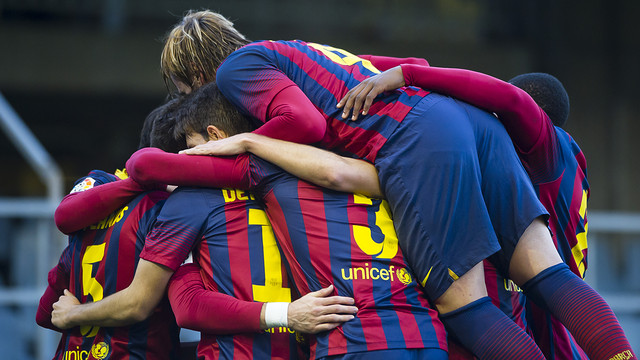 Adama played a fantastic game as he got a goal and an assist, and goals from Planas, Denis Suárez (2) and Dongou sealed the win for Eusebio's team
MATCH FACTS
Barça B, 5
Hèrcules CF, 0
Barça B: Ortolá, S.Gómez, Patric, Planas, Ilie, Dongou, Espinosa (Nieto, min 71), Samper, Denis Suárez, Edu Bedia (Babunski, min 76) and Adama (Pol Calvet, min 83).
Hèrcules CF: Falcón, Sissoko (De Lucas, min 67), Escassi, Sardinero (Eldin, min 59), Portillo, Javi Hervás, Peña, Ferreiro (Sugi, min 63), Ortiz, Assulin and Carbonell.
Goals: 1-0, Planas, min 18; 2-0, Suarez, min 43; 3-0, Adama, min 48; 4-0, Dongou, min 59; 5-0, Suárez (82').
Referee: Trujillo Suárez.
Barça B cruised to victory in their first match of 2014. The team managed by Eusebio showed no mercy to their rivals and they secured the first three points of the year at the Miniestadi. Adama, who scored a goal and performed brilliantly on the right, Planas, who scored the opener, Denis Suaréz, who scored a brace, and Dongou secured the win for Barça B.
Three vital points
Both teams desperately needed the three points coming into the match. The Valencia-based team's approach was to pressure high up the pitch, while Barça B focused much of their effort on finding space for their forwards.
One of the clearest chances before the opener was created by the visiting team. The former Barça B player Gai Assulin scored, but the goal was called back due to a previous offside call.
Planas' elegance and Adama's speed
A pass from Denis Suárez was scooped up by Planas, who turned and exquisitely fired the ball into the back of the net. Despite the goal, the Blaugrana weren't particularly solid on defence, and Hercules came close to scoring the equaliser.
Adama was causing havoc down the right wing, and a pass from the youngster was converted by Suárez to make it 2-0. Before the second goal, Espinosa was booked, it was his fifth of the season which means he'll miss Barça B's next match.
The show goes on
Adama kept on rolling in the second half. A good through ball from Espinosa was taken advantage of by Adama – the forward then went on to beat Falcón in a one-on-one. Dongou was next to score. Barça B's No9 got the ball at the edge of the area and sent it to the back of the net with a left footed shot.
Denis Suárez makes it 5
Suárez put his team up by five goals thanks to a beautifully taken free kick at the top of Hercules' box. Barça B are climbing the table thanks to the three points, and they're putting distance between themselves and the relegation zone.