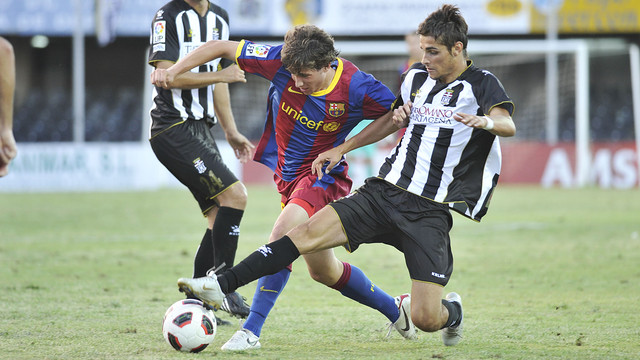 Barça B played Cartagena four times between 2010 and 2012, when they both played in the second division
Six of Barça's first team squad have experience of playing FC Cartagena, who face Barça in the Cup on Friday night –Oier Olazabal, Martín Montoya, Marc Bartra, Sergi Roberto, Cristian Tello and Isaac Cuenca – who played for Barça B between 2010 and 2012 against Cartegena in the second division.
Three big wins to one
The last time Cartagena played Barça B at the Miniestadi was on February 11 2012, when Barça won 4-0 thanks to goals from Deulofeu (2), Muniesa and Rafinha. Oier, Montoya and Bartra all played in that game. In the away game, Barça B also won 0-4 with Cuenca scoring a goal.
The season before that, (2010/11), Cartagena had given Barça B – featuring Sergi Roberto – a 5-1 thrashing, whilst Luis Enrique's side won 3-0 at the Mini with Cristian Tello and Jonathan dos Santos in the side.