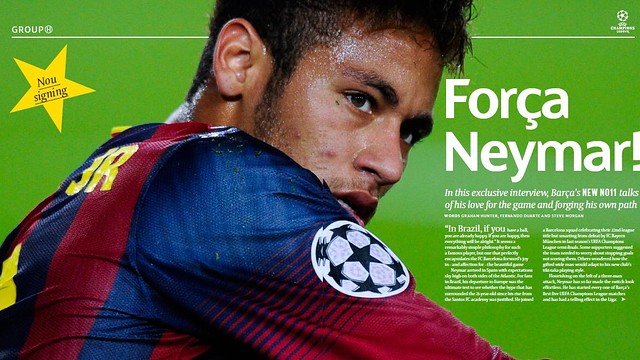 Barça's Brazilian front man has been interviewed on UEFA's website and makes it clear he's more than happy at the Club.
"You must have a good friend alongside you to help you with the things you need. I have Dani, who is really important in helping me"
In an interview with UEFA.COM, – which is published in full in the latest UEFA Champions Matchday magazine – Neymar expressed his satisfaction with his summer move to Barça, insisting "I have chosen a marvellous club to play for – they have welcomed me with open arms". The Brazilian also explained that he'd made the move after talking the chance over with his father – "It was the right moment to leave Brazil,".
"Here, you learn how to live and be a good professional"
Neymar has started 13 league games and scored four goals already this season , but he admitted: "clearly the start is hard when you arrive; you have to play a bit slower, but bit by bit, I'm getting there. There are differences, both on and off the pitch". Despite those normal teething problems, Neymar is clearly happy with the Club, explaining: "here, you learn how to live and be a good professional. I'm adapting well. I'm working as much as possible for the team,"
Alves making the difference
One of the main reasons Neymar has settled in so quickly is the presence in the Barça dressing room of his fellow Brazilian Dani Alves and he reckons: "you must have a good friend alongside you to help you with the things you need. I have Dani, who is really important in helping me adapt, both at the club and outside it. He's someone who has helped me quite a lot". But Neymar is also a family guy and he admitted: "my family continue to be as they always have been – they're helping me."
Latest in a distinguihed line
Both Alves and Neymar, as well as Adriano, are the latest in a long line of Brazilians to have starred at the Club and the striker expressed his admiration for four of the best Romário, Ronaldo, Rivaldo and Ronaldinho. "Ronaldinho made history at Barça, what he did on the pitch was phenomena. Ronaldo chose his own way and Romário and Rivaldo were both different types of players – they all had their own style and I have mine too. I'd just love to achieve the greatness they did"