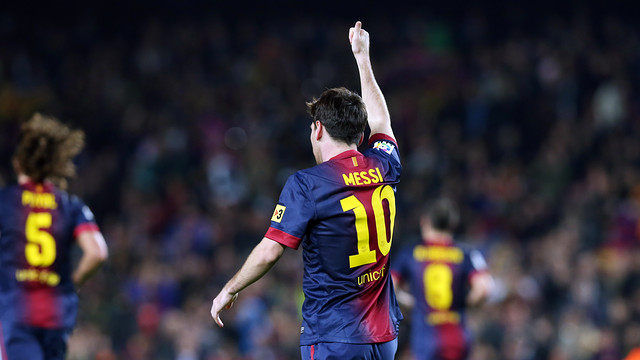 The Argentinian striker has collected the Pichichi trophy for being the top Liga goalscorer of 2012/13, while Vilanova won the manager of the year award
Neither of the two were able to attend the Gala and so their trophies were collected by Carles Reixach and Toni Freixa
On Monday in Madrid, 'Marca' newspaper handed out its annual awards, including the Pichichi trophy for the league's top goalscorer, which for the second season in a row and third in total was won by FC Barcelona's Leo Messi. Last season, the Argentinian found the target 45 times, but as he is currently in his home country undergoing treatment for his injury, the trophy was collected in his name by FC Barcelona secretary and spokesman Toni Freixa, who told the audience that "Messi is recovering satisfactorily and will soon be fit again … The football world is waiting for Messi start playing again so we can enjoy his football".
There was also an award for former Barça manager Tito Vilanova, who also unable to attend the gala. In his case, it was Carles Rexach who collected the trophy, saying that "Tito Vilanova understands, lives and loves football. He is in good spirit despite the treatment he is undergoing". It was Tito who managed Barça to the club's best ever Liga season, with 100 points in total.
The other prizes of the night went to Thibaut Courtois, Atlético Madrid's Belgian keeper who won the coveted Zamora Trophy, Álvaro Negredo, Sevilla's striker who won the Zarra Trophy awarded to the highest scoring Spaniard in the first division, Velasco Carballo, winner of the Guruceta Trophy for the best referee, and Real Madrid's Cristiano Ronaldo was the man named by 'Marca' as the overall player of the season.