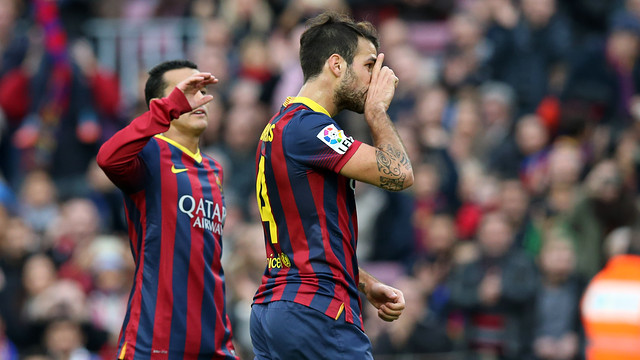 17.00 , GolT and Canal+ Liga: Barça will close out 2013 as they fight for the top spot with Altético
Valdés, Puyol, Xavi, Messi and Neymar are not available for selection

FC Barcelona will close out the 2013 schedule on Sunday away to Getafe. The'll do it after being at the top of the table for 12 consecutive months if they win at the Coliseum Alfonso Pérez. Barça and Atlético Madrid have the same amount of points, the tiebreaker lies in the amount of goals scored by each team.
Tata Martino's men are very well acquainted with Getafe's stadium, and it's not necessarily an easy place to play for Barça. Curiously, the Coliseum is a pretty accurate barometer for the Blaugrana: whenever Barça win at the Coliseum they go on to win the title; whenever they fail to win, they don't win the league.
Once again, Martino will have a couple of key players unavailable for selection. On this occasion, Puyol, Xavi and Neymar won't feature for the Blaugrana, while Messi and Valdés are still out due to injury. However, it's not all bad news for Martino seeing that Dani Alves will be available for selection against the Madrid-based team. Dongou was also named to the team by the manager.
Getafe come into the match in a comfortable position as they are much closer to the European spots of the table than they are to the relegation zone. The Madrid-based team will also face off against the Blaugrana in the round of 16 of the Copa del Rey in January. Their manager, Luis García, has the whole Getafe roster at his disposition.