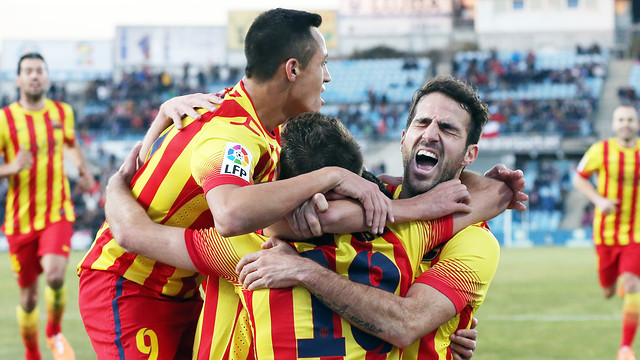 With Pedro on fire, Barça put five past Getafe, who led 2-0 after 14 minutes
Team stay top thanks to Pedro's hat trick and Cesc's brace
Pedro proved to be Barça's Christmas present in Getafe, leading a great fighback with three goals for an important win at a tough ground and with a side devastated by injuries and suspensions. Two early goals from Getafe looked to have set an even more difficult task for Martino's team, but they fought back with quality, character and pride. Pedro scored three, set up another and forced a penalty with a wonderful performance.
2-0 in first quarter of an hour
Barça paid a high price for a slow start, though things could have begun differently had Piqué been able to score from close in early on, but his shot hit the Getafe keeper's legs and soon after it was the hosts who opened the scoring after Escudero cut in from the left and beat Pinto. Almost immediately, Getafe doubled their lead when the unmarked Lisandro found the net from a corner.
Tight calls deny Barça opener
Barça now had to start taking risks and with Iniesta pulling the strings, they began to take control after their disastrous start and lay siege to the Geatfe half. A couple of close calls from the ref denied them first with an offside call to rule out a Pedro goal on 18 minutes and then when a good shout for a clear handball in the Geafe box was waved away. Getafe were still posing some threat with their counter attacks, but with Alba galloping down the left and the team showing great determination and character, Barça's opening goal looked to be just a matter of time.
Nine minute hat trick from Pedro
In a nine minute spell before the break, Pedro turned the game around: first with the opener after an assist from Cesc, then, after Sergi Roberto hit a great chance for the equaliser high over the bar, the Spanish winger cut inside brilliantly from the last to fire home the equaliser, before claiming his third immediately afterwards from an Alba cross.
Getafe were on the ropes and trying everything to stop the Barça storm, with the half ending in a yellow for Mosquera for a stamp on Busquets.
Cesc brace rounds off the win
The tension seemed to wane after the break though, as Barça calmed the pace down and held onto posession to keep Getafe at arm's length, though Diego Castro gave them a fright on the hour mark. That was to prove their last chance to get back into the match though, as Cesc – possibly in an offside position – hit home a cross from -who else? Pedro!
It was the hat trick hero who was again at the heart of the fifth, when he was brought down in the box, setting up a penalty that Cesc hit home for his second of the night. With Busquets running the show, Barça ran out clear winners then, despite that early wobble and go into the New Year still atop the table.