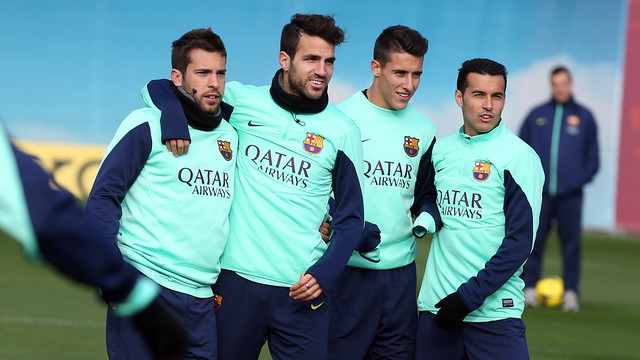 The players that live in Spain will be due back from their festive break next Monday
Those travelling to their home countries, with the exceptions of Adriano and Jonathan dos Santos, who are staying in Spain, will be back on Thursday January 2
Arriben les festes de Nadal i com cada any la competició s'atura per uns dies, cosa que permetrà que els jugadors puguin gaudir d'uns dies de descans amb les seves famílies. Després del partit de Lliga de diumenge a Getafe el tècnic Tata Martino ha concedit una setmana de festa a l'equip. No serà fins al dilluns 30 de desembre, a les 20 hores, que tindrà lloc el primer entrenament després de Nadal. Per a aquesta sessió preparatòria estan convocats els jugadors que viuen a Espanya, excepte els que estiguin convocats amb la selecció catalana, que jugarà aquell mateix dia un amistós contra Cap Verd.
Els jugadors estrangers, excepte Adriano i Jonathan dos Santos, que es queden a Barcelona, s'incorporaran a la feina el dijous 2 de desembre. Per a aquell dia Martino ha planificat dues sessions preparatòries, al matí i a la tarda. L'entrenador ja podrà comptar amb tots els seus homes per preparar el primer partit del 2014, que serà el diumenge 5 de gener al Camp Nou davant l'Elx (16 hores).
Pla d'entrenaments del 30 de desembre al 5 de gener:
Dilluns, 30 de desembre
20 hores. Entrenament a la Ciutat Esportiva
Dimarts, 31 de desembre
10 hores. Entrenament a la Ciutat Esportiva
Dimecres, 1 de gener
Festa
Dijous, 2 de gener
11 hores. Entrenament a la Ciutat Esportiva
19 hores. Entrenament a la Ciutat Esportiva
Divendres, 3 de gener
11 hores. Entrenament al Camp Nou
Dissabte, 4 de gener
In Spain, football takes a break for the festive season, meaning the players get to enjoy some well earned rest with their families. Following the 5-2 win at Getafe on Sunday night, manager Tata Martino has given the players some time off. Not until Monday December 30 at 20.00 will there be any first team training, but only for the players that live in Spain, and not including those who have been picked to play for Catalonia that evening against Cape Verde.
The foreigners, apart from Adriano and Jonathan dos Santos, who are staying in Barcelona, won't be due back until Thursday January 2. Martino has morning and evening sessions planned for that day as he starts getting his team ready for the first game of the new year on Sunday January 5 at the Camp Nou against Elche (16.00).
Training schedule from December 30 to January 5:
Monday December 30
20.00. Training at the Ciutat Esportiva
Tuesday December 31
10.00. Training at the Ciutat Esportiva
Wednesday January 1
Day off
Thursday January 2
11.00. Training at the Ciutat Esportiva
19.00. Training at the Ciutat Esportiva
Friday January 3
11.00. Training at the Camp Nou
Saturday January 4
11.00. Training at the Ciutat Esportiva
20.30. Overnight stay at Hotel Princesa Sofía
Sunday January 5
16.00. FC Barcelona v Elche