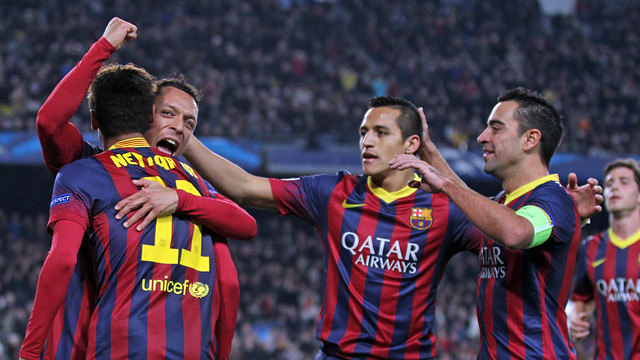 20.00, Canal+ Liga and GolT: Barça are looking to keep up the good work and consolidate top spot in the league
They could become the first club to ever lead la Liga for 54 consecutive weeks
The final game at Camp Nou this year sees Barça entertain Villarreal once again, after the fixture was missing last year due to the latter being relegated to the second division. Barça seem to have corrected their errors in Amsterdam and Bilbao with convincing wins against Cartagena in the Copa del Rey and Celtic in the Champions League, playing precisely the kind of football that has already brought the club one trophy this season, the Supercup, and put them in top spot in both the domestic championship and their Champions League group.
Contesting the lead
But following the setback at San Mamés, Barça's lead has been cut down to mere goal difference, and an exciting weekend of football awaits – not forgetting, of course, that Real Madrid are also just three points adrift of the two leaders and still very much involved in a gripping title race. Atlético are at home to Valencia on Sunday night, Real Madrid travel to Osasuna on Saturday afternoon, and Barça face a difficult task at home to fifth placed Villarreal.
Barça are on the verge of setting yet another all-time Liga record, in this case for the most consecutive weeks on top of the table, having already equalled Real Madrid's record of 53. To do so, they will need to get a better result than whatever Atlético achieve against Valencia, although in the case of both teams getting the same number of points, they will need to maintain their +2 goal difference with respect to Atlético. In the highly unlikely event of both teams losing, there is also the possibility that Real Madrid could be top of the table at the end of the weekend.
Gerardo Martino has named eighteen men in his squad for the game. Valdés, Alves, Dos Santos, Messi, Afellay and Cuenca are still all missing through injury, while this weekend the manager faces the added complication of losing Adriano to suspension.
Surprise package
Villarreal have marked their return to top flight football with a vengeance. Bilbao's victory over Barça a fortnight ago meant they dropped out of the Champions League zone, but they are still only one point short of the coveted fourth spot. And they thoroughly deserve to be where they are, Martino himself saying that "Villarreal are playing the best football in the league right now." However, they are coming to the Camp Nou without two key midfielders, Bruno and Cani.