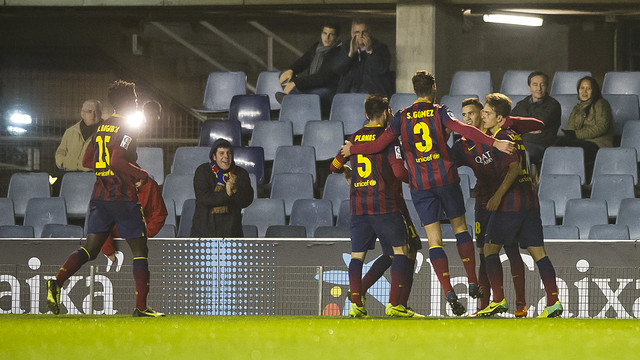 Two great assists from Denis Suárez set up goals for Patric and Sanabria to give Barça B the win in the Catalan derby.
The win was Eusebio's side's first at home since 15 September

STATS
Barça B, 2
Sabadell, 0
Barça B: Ortolá, Gómez, Patric, Planas, Espinosa, Bagnack, Samper, Denis (Babunski, min 89), Nieto (Calvet, min 78), Edu Bedia (Ilie, min 87) and Sanabria
Sabadell: Nauzet, Crespí, Ciércoles, Cristian, Carlos Hernández, Gato, Hidalgo, Anibal (Edgar, min 78), Collantes, Longás (Arteaga, min 73) and Toni Lao (Sotan Tanabe, min 78)
Goals: 1-0, Patric (min 54); 2-0, Sanabria (min 72)
After a run of five home defeats, Barça B got back to winning ways at the Mini with a 2-0 win over fellow Catalans Sabadell . Two clever assists from Denis Suárez set up Patric and Sanabria for the second half goals that gave Eusebio's team their first win at home since September 15 and with last week's win in Cordoba they have lifted themselves out of the danger zone.
0-0 at the break
Barça B were in charge from the start, controlling possession and pressing hard particularly down the left, but Sabadell looked well organised and were constantly on the look out for counter attacks. Twice Sabadell came close on the break, forcing Ortala into good stops, but apart from that neither side made too many openings before the break and the goalless draw after 45 minutes was a fair reflection of the game.
Patric opens the scoring
Both sides opened up more at the start of the second half, with both aware of the need to take three points and it was Barça who drew first blood, when Denis Suárez cleverly set up Patric in the box for the full back to place his shot past the keeper and open the scoring.
Sanabria doubles the lead
Now Sabadell had to go for the equaliser and both Collantes and Cristian again tested Ortolà, before Denis Suárez took advantage of the spaces opening up at the other end to play in Sanabria to double the lead.