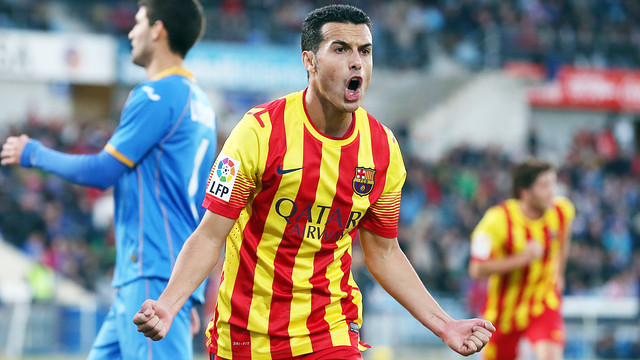 Three goals from the forward lead Barça to victory over Getafe
Pedro is now level with Leo Messi on 14 goals
"I'm taking the ball home"
After the match the player said, "I'm happy because we won, because of how we reacted and because I was able to help by scoring goals. We're happy to leave here with a victory because it was important to close out the year like this." He added: "I'm happy when things work out. This is the road we have to follow."
Madrid is a good place for Pedro Rodríguez. Three months ago the FC Barcelona forward scored his first hat-trick for Barça, against Rayo Vallecano, and this evening he repeated the feat in Madrid territory.
Pedro led Tata Martino's team to a come-from-behind victory at the Coliseum Alfonso Pérez, and it only took him eight minutes. The Barça forward becomes the second player in the league to score a hat-trick in the first half, the first player to do it this season was Leo Messi.
Pedro capped off his performance with an assist to Cesc, and he won the penalty that led to Barça's fifth goal.

14 goals, level with Messi
Pedro's hat-trick seems him to the top of Barça's highest goal scorers list. He's netted 14 goals (10 in the league, 3 in the Cup, and 1 in the Champions League), the same amount as Leo Messi. Pedro is also Barça's highest goalscorer away from the Camp Nou: three against Rayo, one against Betis, two against Cartagena and three against Getafe.