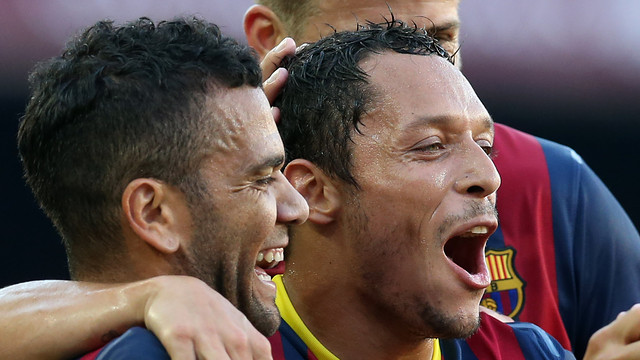 The FC Barcelona players Adriano and Dani Alves are up for the Samba Gold award, your vote can help one of them win the trophy
Voting closes on December 30

2013 is coming to an end and so is the voting period for the Samba Gold award that both Dani Alves and Adriano Correia are eligible to win. This award, which is currently in its sixth edition, is given out to the best Brazilian player in Europe. Both FC Barcelona players are among the 30 finalists and the voting period closes on December 30.
Dani Alves and Adriano were nominated for the award last year, but Paris Saint Germain's Thiago Silva was eventually crowned the winner (his 2nd consecutive award). Other winners of the Samba de Oro are Maicon (2010), Luis Fabiano (2009) and Kaká (2008). In the 2011 edition, Alves finished second with 15.3% of the vote, 0.8% less than Thiago Silva.

Web users decide along with journalists and former players
Among the 30 nominated are the former Barça player Maxwell (PSG), Filipe Luis and Miranda (Atlético Madrid) and Marcelo (Real Madrid).
The Samba Gold award is decided by the votes of web users at www.sambafoot.com, the votes from eleven football journalists and the votes from eleven former professional footballers, managers and individuals linked to Brazilian football.
Premi 'Samba d'Or' VOTA A ADRIANO I ALVES