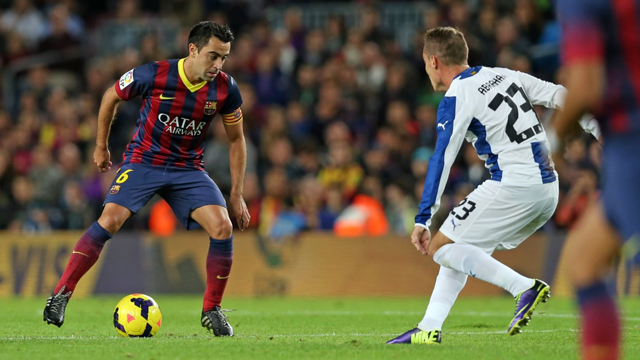 In an exclusive interview with Mundo Deportivo, the FC Barcelona vice-captain talks about Leo Messi, Neymar, Tata Martino and the team's evolving style of play
In an exclusive interview with Mundo Deportivo, Xavi Hernández opened up about the ongoing discussion about FC Barcelona's style of play, Messi, Neymar and manager Gerardo Tata Martino.
When asked about Messi, whose most recent muscle injury will keep him on the sidelines for four to six weeks, the Catalan midfielder said: "Messi is a really tough guy, mentally strong and he'll return in top form. He's played everything for four to five years, and he's been decisive in all of his matches, scoring two or three goals in some of them." Xavi added: "He's the best in the world but when your body says stop, you have to stop. The most important thing is for him to recover well. For us, he's the best and we need him a lot. In January he'll be in top form and he'll prove that he's the best."
[[CITA_1]]
Barça's vice-captain admitted that the team will miss the Argentinian for the remainder of the calendar year, but that the Blaugrana have a deep enough team to cover such an important loss. "Our rivals have more respect for us when Messi's on the pitch but we have a lot of talented players on the team. Alexis is extraordinary, Pedro's on form, Neymar is adapting, Cesc is simply spectacular, and Tello is going to get more minutes. We're going to try our best to make sure Messi's absence isn't noticeable."
Neymar brimming with confidence
With Messi out of action, many pundits point to Neymar as the natural stand-in for the Argentinian for the remainder of 2013. But for Xavi, it's a misguided notion: "It would be an error for all the responsibility to fall on Neymar. The team have to be above this and step up, we can't place the responsibility on just one player. When we attack we all participate, from Valdés to the center forward."
[[CITA_2]]
Xavi then went on to talk about the Brazilian's transition to European football and Barça's style of play. "Neymar is fantastic. He showed us his level during the Confederations Cup. He's called to make a difference on the team and he's doing just that because he's decisive." He added: "He's an intelligent lad, he understands football well beyond taking players on one-on-one. He doesn't lose possession, he adapts to the circulation of play, he understands Barça's philosophy and he'll improve. He's 21 and his progress has been fantastic. When he first arrived he was timid, now he has more confidence."
Tata, a manager who's close to his players
"He's very intelligent, he understands Barça and where we came from," said Xavi on FC Barcelona's new manager, Tata Martino. "We reached our best form in past seasons and perhaps we're not at that level now but we're doing pretty well. We can reach excellence again. These types of comparisons are loathsome but they are there because of the extraordinary level of our football for the past four to five years, where we had an unusual superiority over our rivals. It will be tough to reach that level again … Tata knows what level we can reach and he's working towards that. He has a lot of experience, and he close to the players. We really value his work."
[[CITA_3]]
When asked if Martino had asked Xavi to change anything about his style of play, the midfielder said: "No, in fact he told me privately that I shouldn't change anything and that I had to participate more. We talk a lot. He's very close to his players, and he really likes to talk about football. He told me he was criticised in Argentina when he played with five midfielders at Newell's. He's not here to change anything, he's here to recover things that perhaps we lost last season."
Has the style changed?
Finally, Xavi weighed in on the topic that's headlined the dailies in Catalonia and Spain for the past couple of months, Barça's style of play: "It hasn't changed. Oftentimes it depends on the rival. Most of them close themselves off at the back, other teams attack us like Rayo or Betis and when you win possession back against them there's a lot of space to play into. People say we play counterattack football but we don't because when we find space we're more direct, we don't have to make 20 or 30 passes to get there. It's not true that our style of play has changed. We've adapted to what the match requires."
Messi is a really tough guy, mentally strong and he'll return in top form
Neymar is an intelligent lad, he understands football well beyond taking players on one-on-one
FC Barcelona can reach excellence again