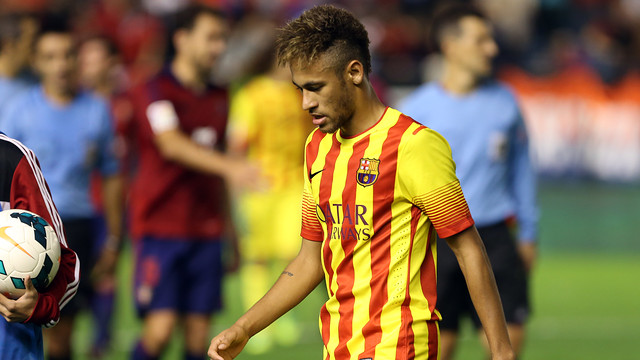 An agonising victory and the only draw in the league followed the two breaks for International matches this season
This Saturday FC Barcelona faces the challenge of resuming league competition following a break for international matches, where up to eleven Barcelona players have been away with the national teams for ten days. These are traditionally difficult situations for the team and this season is no exception. After the two previous interruptions, Tata Martino's players achieved an agonising win, and dropped their first points in the league.
Alexis the saviour
The first international break of the year came in September, between matchdays 3 and 4. With all wins under their belt, Barcelona were hosts to a Seville side that had an irregular start to the season. The club went ahead 2-0 with goals from Messi and Alves, but the Andalusian team were able to equalise close to the end. A goal in virtually the last second of the match by Alexis, following a brilliant Messi move, meant a win for the home side.
Two points dropped
In thirteen matches, Barcelona have won twelve games and drawn one. This one draw came after the second interruption for international matches. It was the sixth match, and Barcelona drew 0-0 at Osasuna, who really needed the points as they were in the relegation zone.