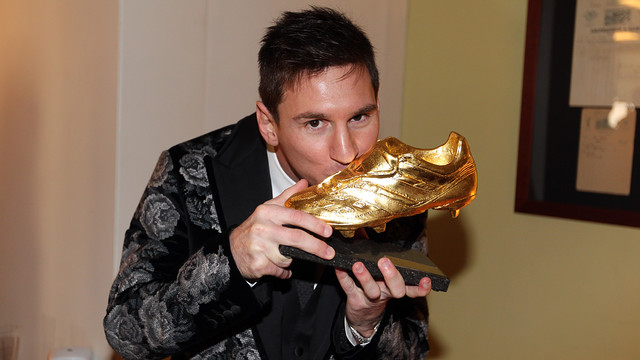 The Argentinian striker, very pleased after receiving his third Golden Boot and for the evolution of his recovery: "I'm improving gradually, and now almost without pain"
Among those attending was President Rosell who saw Messi "in good shape"

Leo Messi now has his third Golden Boot, as the top scorer of the European leagues in 2012/13, for his trophy cabinet. Barcelona's number 10 received the award "with great happiness": "It's a very nice group award, because I could not have won it on my own". His dedication was similar to ones for the other major individual trophies: "It's for my family, the people who love me, and the squad".
From Hristo to Leo
Smiling a lot and wearing a jacket that didn't leave anyone indifferent, Messi received the Golden Boot from another illustrious winner, Hristo Stoichkov, who wished him a speedy recovery. In this regard, the Argentinian said: "I am feeling better, improving slowly, almost without pain, and starting to do some work". He added: "I'm not fixing a date to return, it depends on how everything goes. When it has to be, it will be".
He is in no doubt that the team will do fine without him. He sees it like: "Barcelona has not changed it's philosophy, we have grown as a team and now have other options". On the other hand, Messi tiptoed around the debate about the winner of the Golden Ball in 2013. "It is not my goal, and never has been. My objective is to return, and to return fit so I will be relaxed" he concluded.
[[CITA_1]]
Everybody is with the superstar
At the presentation ceremony of Messi's third Golden Boot, held in the old Damm Factory in Barcelona, there were many personalities present. From the Catalan civil society and the world of sport, starting with by members of the board, led by President Sandro Rosell, technical secretary Andoni Zubizarreta, manager Tata Martino and his Barcelona team-mates.
Speaking to TV3, Rosell stated emphatically: "Messi has to work on his recovery until he is in good shape again. I am sure that he will come back the same or better than before. For me he is still the best ever as shown by his stats". The Barcelona President was unable to hide his preference in the coming elections for the next Golden Ball: "I would vote for Leo". Above all, Sandro Rosell saw Messi as "in good shape and eager to recover well". "As president I am very relaxed about the whole thing" he said.
In the presentation of the Golden Boot #Leo @3gerardpique @Carles5puyol @cesc4official @AdrianoCorreia6 #Xavi y #Jordi pic.twitter.com/4zufVRalO7
— Pinto/Wahin (@13_Pinto) November 20, 2013
The best. pic.twitter.com/yMjEiTJrGr
— Gerard Piqué (@3gerardpique) November 20, 2013
It's for my family, the people who love me, and the squad