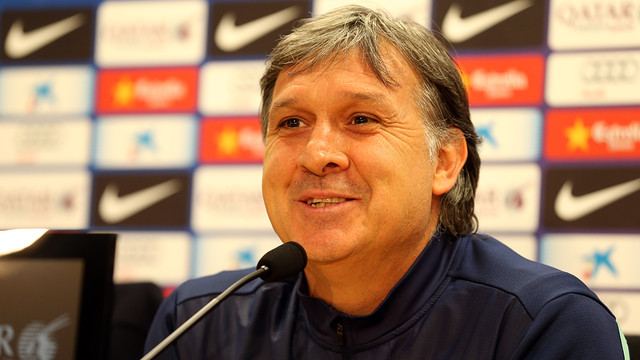 The FC Barcelona manager knows Athletic Bilbao will force the best out of his team
He hasn't forgotten what happened against Ajax, but also knows how positive the last three months have been
Speaking at a press conference today ahead of the Bilbao match on Sunday, Gerardo Martino was quizzed once again about the disappointing performance by his team at the Amsterdam Arena. "We have to respond through football, by playing better and not repeating what we did in the first half of that game. We have to show a different face … This game will help to tell us what situation we are really in. It will demand the very best of us".
He knows the Basque outfit "is an aggressive side that goes for attacking football … Athletic Club are a very difficult opponent, packed with very good, very skilful players".
Clear objectives
Going back to Tuesday night in Amsterdam, Martino spoke of "something of a lack of intensity and some footballing issues." However, the Argentinian was impressed with the way the players have been so self-critical, and although he has spent plenty of time discussing the defeat with his squad, he denied that he had given them a telling off. "We mustn't forget what we did against Ajax" he said. "But neither should we forget all the good things of the last three months … I'd settle for just losing one of the next twenty matches. Now we just have to show that this first defeat was not the start of anything".
"That's why Sunday's game is so important", insisted Martino. "It's a special kind of game because of what happened against Ajax … Now all we are thinking about is making sure we end the year well. And that means finishing first in our Champions League group and staying top of the league".