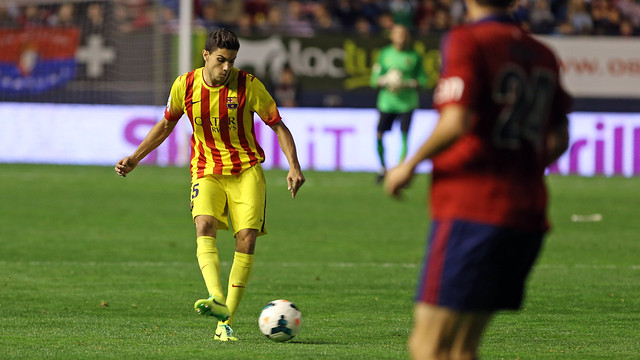 The center back is called up to the Spanish national team after putting in good performances for Barça
22-year-old Marc Bartra is taking giant steps toward furthering his development this season. His latest feat is to be called up to the Spanish national team ahead of the international friendlies against Equatorial Guinea and South Africa. Up until now, the Barça center back was a crucial player in the U21 Spain side that went on to win the European championship this past summer.
Taking advantage of his chances
Bartra's first call up to the senior national team comes at a time when Tata Martino regards him as a crucial player in the team, despite the demanding competition for a spot in the starting line-up with Piqué, Mascherano and Puyol.
Piqué and Mascherano, with Puyol injured, were the most used pair of defenders by Tata Martino at the start of the season. But Mascherano's injury after Round 6 of La Liga propelled Bartra to the starting XI. Since then, Barça's No15 has featured in seven league matches, two Champions League games and he's scored one goal.
Fantastic performance is rewarded
Elegant, technical, reliable in the air and efficient when he goes forward, Bartra has earned the confidence of Martino thanks to his good performances. His latest was this Sunday away to Betis, where he stacked up brilliantly against the home team's forwards. After the match, and with Cesc's injury confirmed, Vicente del Bosque rewarded Bartra with a call-up to the Spanish national team.