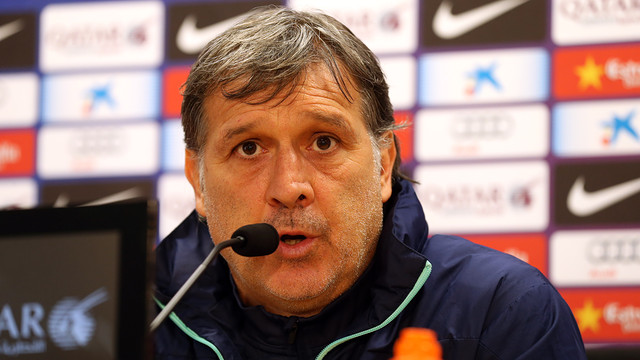 The FC Barcelona manager knows that Betis are in trouble and need the points badly
He adds that a win in Seville would be perfect to relax the players through the international break
The game at Betis on Sunday is the last before the international break. But it's against a team that has a recent history of surprising Barça and Gerardo Martino knows that, and expects a difficult game. "I expect Betis to come out for us, especially playing at home" he says. "They have some great players, and although their league results haven't been too good, they're doing well in Europe. We expect a very difficult match".
"Betis are dangerous because they're a good team. Their league position doesn't matter. Whoever saw how they played against Madrid in the first match knows they have a good team".[[CITA_1]]
He also appreciates the importance of winning ahead of a fortnight without matches. "The next game [against Granada] is a long way off, so if we don't win we're going to be under pressure for the next two weeks. Winning at Betis will give us peace of mind."
Gerard Piqué is being left at home for the game at the Benito Villamarín, and Sergio Busquets is being rested, so this is a chance for Alex Song. "I have a high opinion of Song" says the manager. "In the three or four games he has played, he has always responded with high quality performances".
He went on to explain that "we have looked at ways of him playing him in midfield alongside Busquets. They were together against Madrid, and Celta too". The Catalan has been dropped this weekend because "he has just played two internationals and six games for Barça in a row" and it would be useful for him to get some rest.[[CITA_2]]
Martino is happy with the way the team s playing, but "we all agree that there is room for improvement … We need continuity. We create pressure sporadically, at certain times. We have to generate more pressure in our opponents' half and control games better. When we do that, we do it well. I think we're only getting it right for certain periods, and we need to be more continuous".
Whoever saw how they played against Madrid in the first match knows Betis have a good team
We need continuity. We create pressure sporadically, at certain times. We have to generate more pressure in our opponents' half and control games better