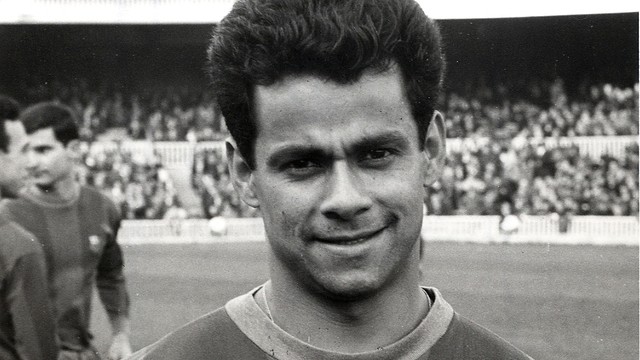 The Paraguayan forward, who has died at the age of 75, played for FC Barcelona from 1962 to 1966
This Tuesday, in Elche (Alicante), the former Barcelona striker, Cayetano Re, has died at the age of 75. The Paraguayan played for Barcelona for 4 years, was in the winning Spanish Cup team in 1962/63, and was top scorer in the League in the 1964/65 season.
Cayetano was small but elusive and quick. He had a great capacity for scoring goals, and demonstrated that capability over the years that he wore the Barcelona shirt, to the point where he became top scorer in the League in the 1964/65 season, scoring 25 goals in 30 matches, 5 more than the 2nd top scorer, the Brazilian striker Valencia Waldo.
From Elche to Barcelona, in April 1962
Born in Asunción (Paraguay) on February 7th 1938, Re was signed by Elche in 1959 from Cerro Porteño, as a top signing, as he was a Paraguayan International and had taken part in the World Cup in 1958. He proved his worth for Elche, and in April 1962 he signed for FC Barcelona, where he played 167 matches, scoring 94 goals, and was in the Spanish Cup winning team in the 1962/63 season.
In February 1966 he was transferred to Espanyol, where he was also very successful, right up to 1971. His final season as a player was 1971/72, when he played for Terrassa.
Cayetano Re also took on a coaching role, and he was in charge of the Paraguayan National Team in the Mexico World Cup in 1986.
Cayetano Re's funeral will take place this Wednesday, 27th of November, at 11.00 in the El Salvador Church, in Elche.