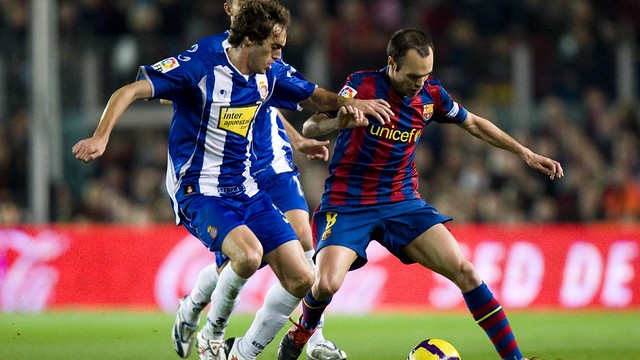 Here's a round up of what the Catalan and Spanish press have to say about this evening's match at the Camp Nou
Aguirre's warning
"Whoever thinks we're going to lose at the Camp Nou is of no use to me," said Javier Aguirre in yesterday's pre-match press conference ahead of this evening's derby against FC Barcelona. The manager, whose comments were picked up by the Madrid-based press outlet Marca, continued: "You are of no use to me if you think we are going to lose at the Camp Nou, my players are concentrated and very serious."
The Mexican manager believes that his men will have to play "a perfect match on the ball and off it because Barça can roll you in a second," but he's confident that his men have "a good chance" to take points off the league leaders because Espanyol are a "competitive and seasoned" side.
Barça's dominant past
Aguirre knows that he must instill the right mindset in his players if Espanyol are to break their recent string of bad results away to their city neighbours. Mundo Deportivo points out that Espanyol have gone winless at the Camp Nou for four consecutive seasons, the last victory was in 2009. Since then, Espanyol have conceded 11 goals and scored none, the last two visits to the Camp Nou saw the Pericos lose by 4-0.
If recent history is depressing for Espanyol fans when it comes to the derby, then the Barça-Espanyol matchup in 2009 certainly is cause for celebration. The treble-winning team constructed and managed by Pep Guardiola took on Mauricio Pochettino's Espanyol at the Camp Nou on February 21 of 2009. Messi, Xavi, Iniesta, Eto'o, Henry, Toure Yaya, and company were bested by two goals from the former Barça player Ivan de la Peña (1-2). Aguirre is certainly hoping for a repeat of the match that is now known as the 'Delapeñazo.'
Tata Martino to roll out the heavy artillery
The Barcelona-based daily Sport supposes that Tata Martino won't pull any punches when it comes to this evening's match. According to the daily, Martino will line up his strongest available starting XI: Alves, Piqué, Mascherano and Montoya will line up in front of Valdés while the habitual trio made up of Busquets, Xavi and Iniesta will be charged with running things in the middle. Up front, Alexis and Neymar will line up on either side of Lionel Messi.
It's derby Friday, and remains to be seen if Barça's dominance will continue or whether Espanyol are capable of another Delapeñazo-style coup.