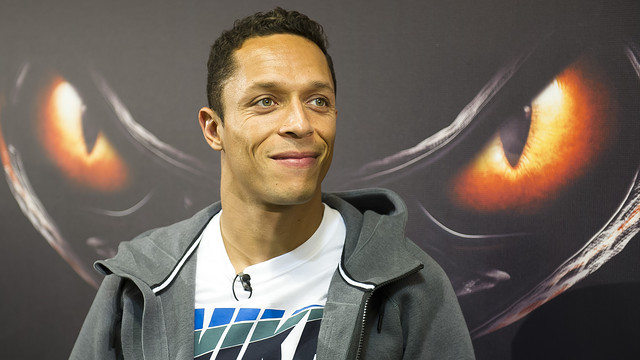 The left back believes that the "attention" the team have when defending is a key factor in not conceding goals
Fashion
Alex Song, Neymar and Dani Alves are players who are not afraid of showing off their sense of style. Do you include yourself in that group? Are you interested in fashion?
"I'm always liked fashion. There are some days when I'm lazy, but I'm more into now. It's not about competing with them, it's about being comfortable."
Adriano Correia is one of the most-used players by Tata Martino this season. The Brazilian was the only natural left back after Jordi Alba picked up his injury earlier this year, and Adriano has taken full advantage of the opportunity.
Adriano sat down with www.fcbarcelona.com and Barça TV for an exclusive interview during a Nike promotional event last week, here's what he had to say:
A lot has been said about Barça's evolving style of play, have you changed the way you play with respect to past seasons?
"I try to improve every year. Every time I play I'm very aware of what I did in the last game and what the manager asks me to do. My team-mates know me more and I have a feeling that I'm on better form this year than I was when I first came. For me it's a very positive evolution in terms of form, tactics, and playing time."
Do you think this is your best moment as a Barça player?
"I think it is. Because I have confidence. Having played so many consecutive games is very important psychologically. Before I only played two matches and I didn't know if I'd be fit enough for a third game. Now, my consistency has given me confidence, and the manager and the group believe I'm reliable, that they can count on me for the many matches to come."
Defensively, the team's stats are excellent. What's the key?
"Paying attention. We are very concentrated in our matches. Due to our characteristics, we know that we have to be very on top of every play. The fact that we get to know each other more each year also has an impact, this helps on defence. The truth is that we're very pleased with our year so far. Not only on defence, we are also performing well in the midfielder and when we attack."
When you're on the wing, are you more comfortable teaming up with a wide attacking midfielder or a more centered forward, like what happened in the Clásico?
"It depends on the match. It can change a lot. For example, Madrid like to play football, just like us. We don't have footballers who are as powerful, so it's better to have more defensive wide attacking midfielders. This way they aren't as comfortable with the ball, when they try to connect with their attacking players. In these types of matches the players on the wings play a very important role."
Last year you shot on goal 18 times throughout the league campaign, this year you already have 13 shots on goal. Why the change?
"I've had more opportunities to shoot. Our style of play and the team-mates I have also have an impact on that. I hope that I get more chances and that I can score more goals."