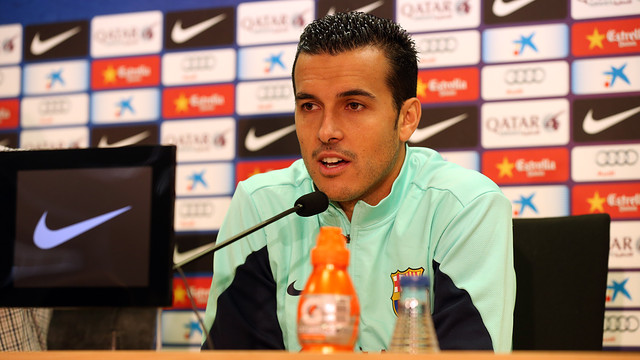 "We are doing fine and people should appreciate that we are playing good, solid football", says the Canary Islander
Pedro Rodríguez gave today's press conference at the Ciutat Esportiva, and spoke about how stunned he is that people have the audacity to criticise the Barcelona's form. "People are being very unfair to the team" he said. "We are doing fine and they should appreciate that we are playing good, solid football". The Canary Islander was, however, willing to concede that "we have to improve a few things but I think they'll come. We're happy with the results and the way we're playing, and that's what matters … In football it is always results that matter, it's results that give you life." He then added that "being top of the table is what matters … We aren't playing anything like as badly as they're saying. What really matters is for the team to carry on winning and playing well." [[CITA_1]]
He also spoke in defence of his team-mate Leo Messi. "His stats and his performances are spectacular, as they are every year", said Pedro in reference to the Argentinian. "He wants to keep helping the team as he has done over the last few seasons … Messi is the one who makes the difference." In fact, Pedro added that the way the team is playing this season means that "other players are getting more chances in front of goal, and that's good for the team".
And the man who has most improved his goalscoring form of late has been Alexis. Pedro is delighted about that, and adds that such a strong contender for a place in the FCB attack "is a challenge for me too, it means I need to compete and train harder than ever … I agree that I would like to be playing more but I feel confident in the games I do get to play in. At the end of the day, what matters is that the team is still winning".[[CITA_2]]
None of this means he has the slightest intention of leaving the club. "I have been here for a long time" he insists. "And this is where I want to be. They have always treated me very well here".
Wary of Milan
Barça's next game is on Wednesday against AC Milan at the Camp Nou in the Champions League. Like the rest of the team, Pedro knows that this is a golden opportunity to clinch passage into the last sixteen, but is not being lulled into over confidence due to Milan's poor domestic form. "They are a historic team, with great players and they'll be a hard team to play against" he says. "We'll have to be careful, because this'll be a hard game even though they are not at their best right now."
It is always results that matter, it's results that give you life
Alexis scoring is a challenge for me too, it means I need to compete and train harder than ever