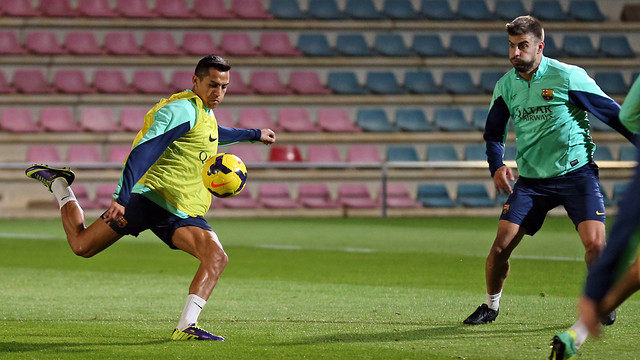 The center back, who didn't play against Celta, returns to the Martino's 19-man team
The Brazilian will miss the match as a precaution

The team v Espanyol
Valdés, Pinto, Montoya, Alves, Piqué, Mascherano, Bartra, Puyol, Sergio, Song, Xavi, Iniesta, Sergi Roberto, Cesc, Tello, Alexis, Neymar Jr, Messi and Pedro.
Gerardo Martino has called up a total of 19 players for the match this Friday (21.00, Canal+ Liga and GolT) against Espanyol. Gerard Piqué, who missed the match against Celta, returns to the team while Adriano Correia will miss the match.
With the exception of Adriano, the team is identical to the one named for the match in Vigo. Oier and Cuenca were not named to the team for technical reasons and Jordi Alba, Dos Santos and Afellay are still injured.
Pre-session chat
Before this Thursday's training session, doctors Ricard Pruna and Daniel Medina talked to the team about nutrition.
Adriano trained on the pitch, but apart from the group.