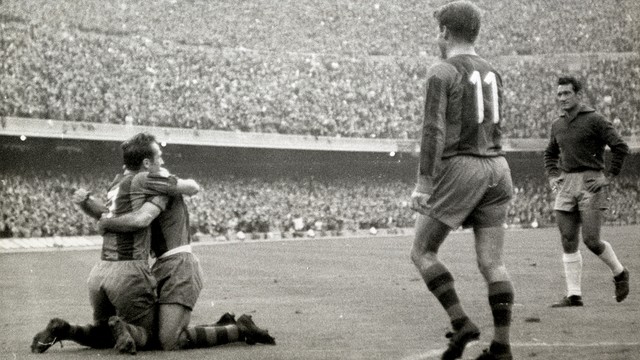 55 years ago, on Saturday October 26, Barça beat Real Madrid 4-0 with a hat-trick from Evaristo
Helenio Herrera eventually led the team to the title
MATCH STATS
FC BARCELONA v REAL MADRID 4-0
FC Barcelona: Ramallets, Olivella, Rodri, Gràcia, Flotats, Segarra, Tejada, Kubala, Evaristo, Suárez & Czibor.
Real Madrid: Alonso, Marquitos, Santamaría, Lesmes II, Santisteban, Zárraga, Kopa, Rial, Di Stéfano, Puskas &i Gento.
Goals: 1-0, Evaristo (m.23); 2-0, Evaristo (m. 67); 3-0, Evaristo, (m. 70); 4-0, Tejada (m. 88).
Seven games into the 1958/59 league season, Real Madrid, with Kopa, Di Stéfano, Puskas and Gento in the side, had won all six matches to date, while Barça, featuring Ramallets, Segarra, Suárez, Evaristo and Kubala had only dropped one point away to Real Sociedad.
Barça exhibition
The build-up to Real Madrid's visit to the Camp Nou was extraordinary. The capacity crowd expected a tight match, but Barça were about to put on one of their finest performances of the era, devastating the visiting defence, with Evaristo de Macedo, scoring three times.
The opener was converted by Evaristo after 23 minutes, as he smashed home a pass from Tejada. The tension soon started mounting, and in the 40th minute an incident involving Rodri and Puskas went unnoticed by referee Birigay Nieva. With the score at 1-0 at the break, everything was still to play for, but in the second half, Barça went wild. After 67 minutes, Evaristo went on an amazing slalom run through the all-white defence, even beating goalkeeper Alonso to slot home into an empty net. The celebrations hadn't stopped before, three minutes later, a counter attack led by Suárez was culminated by the omnipresent Evaristo, with Alonso furious at his team for neglecting their defensive duties.
Mass brawl
The joy was somewhat tarnished by a scuffle towards the end of the game. A violent clash between Di Stéfano and Czibor led to the exchange of blows, and other players were soon joining what developed into a mass brawl. The referee sent off Czibor and Santamaría, the protagonists of the sad spectacle. There was still a quarter of an hour to play, and although the ugly mood spoiled the spirit of the game, there was time for Tejada to make it 4-0 following a tremendous individual run.
HH the genius
The amazing but controversial Barça manager Helenio Herrera made one of his famous after-match comments: "I expected this 4-0 win and I told me players that many times. I was convinced we'd thrash Real Madrid, because I know the class, fitness and morale of my players". Barça were indeed outstanding that 1958/59 season, and went on to win the title with four points more than Real Madrid, scoring 96 goals in 30 games, and also winning the cup title to complete a famous double.