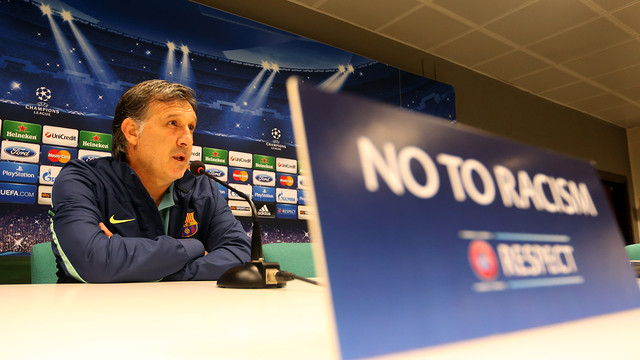 The FC Barcelona manager says that his team will very nearly be qualified for the next round of the Champions League if his men secure a positive result at the San Siro
"We are facing a great institution and in no way do we think this will be an easy match. On the contrary, it will be very difficult!"
Milan and Madrid are two heavy-hitting teams in Europe. First Barça must focus on Milan, and starting this Wednesday, on Madrid. "This week has important games but they are not decisive. They are matches against historic rivals and we'll try to do our best," said the FC Barcelona manager this Monday in the San Siro press room. "We will very nearly be qualified for the Round of 16 of the Champions League if we get a positive result on Tuesday. It's a decisive for our hopes of qualifying and that's why I thought it best to bring all 22 players [to Milan]," said Martino.
"Barça have an exam every three or four days. I've felt responsible in every match that I've managed. Like always, I'll have to send out a team that play well and win," explained the manger when asked about Barça's upcoming rivals. "This Tuesday we're going to face a great institution and we can't belittle it. In no way do we think this will be an easy match. On the contrary, it will be very difficult!" he added.
[[CITA_1]]
"Barça need to be Barça. We must dominate the ball, and dominate the different alternatives we may encounter. That is what Barça have done over the years," said Martino when asked how his men will approach tomorrow's match. He then talked about AC Milan: "We must concede few chances. Balotelli? If he doesn't play that's good news for the other team's manager but bad news for the fans."
Martino then talked about Leo Messi: "Leo is well. He travelled to Pamplona to test himself for a couple of minutes. He's trained well and he is confident." The manager was asked if the Messi's chances of winning the next Ballon d'Or hinge on his performances against Milan and Madrid: "I don't think he's playing to be the best player in the world in the next five days. People vote on what's happened throughout the year."
In no way do we think this will be an easy match. On the contrary, it will be very difficult!