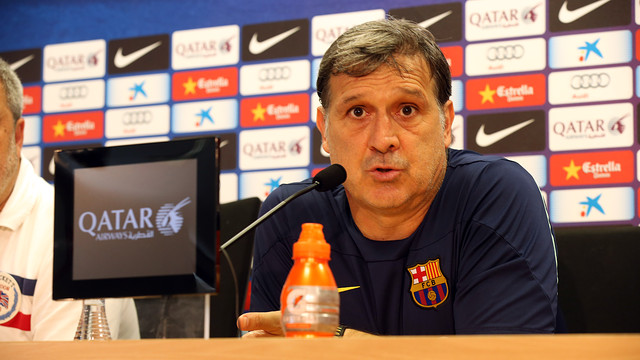 The coach reckons that "winning the Clasico is always a big morale boost", but refused to rule out Madrid in the fight for the league title.
Condolences for the family of Nil Marín
Befiore the press conference finished, Tata Martino took the opportunity to pass on his condolences to the family of Girona's reserve keeper Nil Marín, who was killed in a traffic accident this weekend.
[[DES_1]]In his press conference ahead of the Clasico, Gerardo 'Tata' Martino claimed that a win would be more important as a psychological blow rather than for the three points to be taken and he repeated that idea at the Ciutat Esportiva this morning, speaking before his side travels to Vigo to play Celta tomorrow: "Winning the Clasico is always a boost and the squad's morale couldn't be higher". For Martino, the players "came through a hard fought game when we were often in charge, but were also sometimes under the cosh". Six points behind Barça, Martino refused to rule out Madrid in the title chase though: "Madrid will continue to be a threat till they are mathematically ruled out. Atletico Madrid are also a team who will have a lot to say – they are doing things perfectly".[[CITA_1]]
Celta Vigo come into their game against Barça with their morale pretty high too , following their 0-5 demolition of Malaga at the weekend and Martino is well aware of the danger Luis Enrique's team pose: "it's always important to look at what your opponents did in their last game, particularly when they played so well and got such a great result". The coach doesn't think Celta will change the way they play for the match against Barça either: "so we'll have to find an answer to that to create our own chances".
Tata Martino also explained that he'd spoken about Luis Enrique to Gabriel Heinze, who played under him at Roma, and that he believes the ex-Barça B boss: "will have his chance to coach Barça".
Changes in Vigo
Martino made it clear that he'd be making changes from the side that started against Madrid, but "I'm not going to say how many". Piqué is being rested for the game and the boss explained: the players are gradually seeing how we work and how we rotate the squad. I think that changes are necessary – it's a long season".[[CITA_2]]
Isaac Cuenca also misses the trip: "when Isaac Cuenca is back in form, we'll be calling him up, but he's made a great effort and needs to get back to his best in the best way possible". In contrast, Sergi Roberto is in the squad and Martino admitted: it might seem contradictory to say he's " a phenomenal player" and not give him a game, but he reminded reporters that with Sergio, Xavi, Iniesta and Cesc, Barça have an embarrassment of riches in his position.[[CITA_3]]
Martino was also asked about Leo Messi, who he does not believe is going through a bad patch: "I think that's something that people on the outside worry more about than we do. I'm not worried if he scores or not – what he gives the team is very important. Against Madrid he worked hard at winning the ball back and did a phenomenal job for the team as a whole. We can't see any problem and his presence is a great boost to us all. It seems a good idea to us to use Messi in various positions, according to the team's needs, Him changing his position is a good thing for the team".
100 days in charge
Next Sunday marks 100 days in charge in charge of the team for Martino, but he reckons he's not had time to sit back and value his time at the helm yet: "the games keep coming thick and fast and there's no time to stop and reflect. Life flies by when you are a coach – especially at Barça. Right now, I'm focussed on directing the team, making sure we play well and we win, but I feel totally integrated at the Club and in this city".
Madrid will continue to be a threat till they are mathematically ruled out
The players are gradually seeing how we work and how we rotate the squad. I think that changes are necessary – it's a long season
I'm not worried if Leo scores or not – what he gives the team is very important