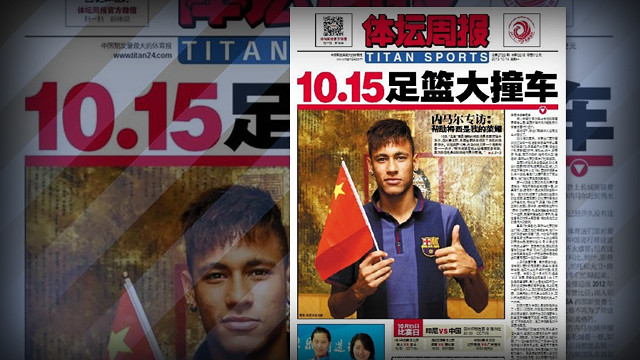 The Brazilian international features on the front cover of leading Chinese sports magazine Titan Sport
Neymar tells the fans that he feels "right at home" at FC Barcelona and is delighted with the welcome he has received from team-mates, coaches and club employees

Tourism in Barcelona
He reveals that a tight schedule of training and matches has prevented him from seeing a great deal of the city. One of the few sights he has managed to take in is the 'Sagrada Familia' of Antoni Gaudí. However, the Brazilian has had his appetite whetted by the many photos of the city he has seen and the views taken in on his way to and from the training grounds. "I look forward to visiting them one day".
[[DES_1]]
On arriving in China, Neymar Junior revealed: "Everyone at the Club, my team-mates, coaches, employees and fans, is treating me really well". The Brazilian is a big star in China with more than 2 million followers of his Tencent Weibo account (the Chinese version of Twitter – Barça has more followers than any other club in China). The leading Chinese sports magazine, Titan Sport, features a front-page interview with him.
Neymar emphasises the great understanding he has developed with Leo Messi and insists that he hopes "to be able to help him more on the pitch". "It's an honour for me to play alongside him. He's a genius".
"I'm looking forward to a great season for everyone"
Neymar also singles out team manager Gerardo Martino for thanks in his settling in process. "He's a great coach". "It's fantastic to be able to work with Tata and I hope this season will be wonderful for everyone".
[[CITA_2]]
Neymar is the latest in a rich vein of players who have combined their twin dreams of playing for Barça and for the Brazilian national team. According to the former Santos star, "it's an honour that can't be described in words". "Both shirts are full of honour and history". "I'm happy to be in the national side. Something I always dreamed about, the same as playing in the best team in Europe".
[[CITA_3]]
Football in Brazil and Europe
Asked to describe the differences between Brazilian and European football, he said: "In Europe, you have to defend a lot against your opponent". "At Barça, possession is very important, whereas in Brazil it's more important to beat the defender, shoot and try and score".
I'm happy to be in the national side. Something I always dreamed about, the same as playing in the best team in Europe
At Barça, possession is very important, whereas in Brazil it's more important to beat the defender, shoot and try and score