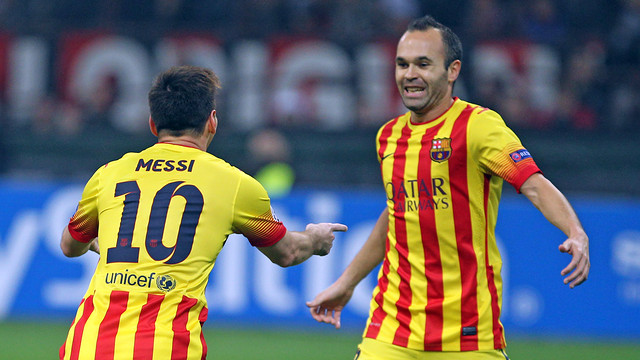 Messi goal gives Barça a point in Milan and keeps them top of Group H
FC Barcelona stay top of Group H after tonight's draw in Italy left them on seven points – two more than Milan- at the halfway point in the Group phase. Barça could have been four points ahead had they taken their chances towards the end of the first half, once Messi had equalised Robinho's early opener.
Barça, who recovered from a poor start and settled after the break, showed only flashes of their usual brilliance, but Milan needed a well organised defence to avoid defeat against a Barça side who now switch their focus to Saturday's game against Madrid.
Robinho opens the scoring
It wasn't a good start for Barça, and AC Milan looked the more intense from the off and were soon causing Barça problems. Kaká, hugging the left wing, was a real thorn in Barça's side and saw a goal ruled out, as Muntari strayed off side.
Two minutes later, the Italians took advantage of a mix up between Piqué and Mascherano to set up a quick counter that ended with Robinho firing home to open the scoring.
Messi hits back
Milan's early dominance soon petered out though and by the time Messi scored on 20 minutes, Barça were on top. The Argentinean's goal came from Barça's first real chance of the game after Busquets had robbed a ball in midfield and sent Iniesta free to set Messi up to fire past the Milan keeper.
Messi, Alexis and Neymar, who saw a well struck volley go just wide, all had chances to give Barça the lead before the break.
Milan forced to defend
Just as they had done in Pamplona, Barça pressed for a winner after the break, but they lacked the killer punch to create clear chances and only a couple of opportunities for Iniesta and Adriano threatened Amelia, who was making his first appearance of the season for Milan.
Despite their best efforts and the impetus subs Cesc and Pedro brought to the game, Barça were unable to break down the Milan defence. Massimiliano Allegri's side were happy to settle for the draw and in the end, the two teams both went away with a point.