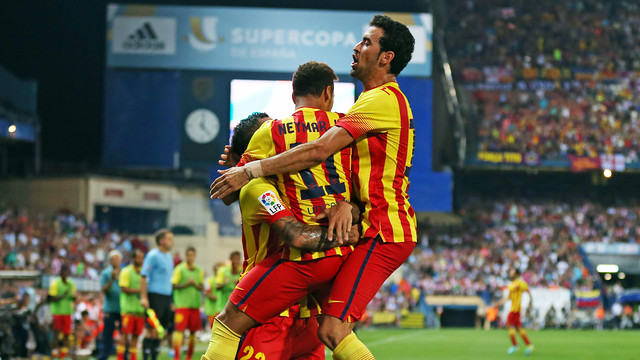 Dani Alves, Piqué and Alexis, who were not named to the squad, won't play in Pamplona
Tata Martino recovers Puyol, Mascherano and Messi, all of whom were cleared to play

It's hard to focus on this afternoon's match with games against AC Milan and Real Madrid on the horizon. However, it must be done because the match against Osasuna will certainly be a demanding for Tata Martino's men, especially after the grueling international schedule many of the players are just coming off of.
For this reason the Barça manager decided to rest key players like Alves, Piqué and Alexis for the trip to Pamplona. Without them, the match at El Sadar stadium is a giant challenge. A challenge that could see the Blaugrana equal the best ever start in league history. It won't be easy.
Unpredictable starting XI
Luckily, this Friday Tata Martino recovered three very important payers. Mascherano, Puyol and Messi were given the medical all-clear and they made the trip to Navarre. All of them have a chance at being in a starting line-up that could very well feature a couple new faces given the team's upcoming matches and the hectic international break. Busquets, Xavi, Pedro and Neymar Jr. are some of the players on the roster who have had the least amount of rest during the international break.
Osasuna: two victories, six defeats
Osasuna's problems are different. The Pamplona-based side have only won two matches from its first eight games in the league. One of those two victories was at home while the other was away to Málaga just before the international break. Osasuna will be without the Loe, Armenteros and Nino – all injured – and Cejudo, who is suspended.