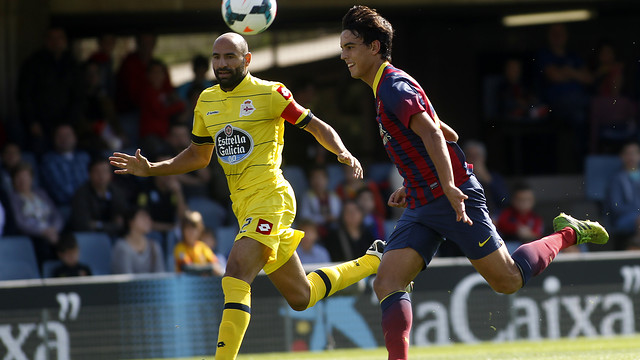 Early Deportivo goal enough to thwart Barça B's dominance
STATS
FCB B, 0
RC DEPORTIVO, 1
FCB B: Masip, Patric, Ilie, Planas, Lucas (Joan Roman, min 74), Samper, Edu Bedia (Adama, min 65), Espinosa (Calvet, min 46), Nieto, Sandro and Denis Suárez.
RC DEPORTIVO: Lux, Manuel Pablo, Álex, Kaká, Laure, Rudy (Luis, min 90), Juan Domínguez, Arizmendi (Marchena, min 82), Culio, Wilk and Borja Bastón (Juan Carlos, min 86).
Goals: 0-1 Culio (min 1)
Attendence: 5.580
Victory doesn't always go to the brave and in front of the watching Tata Martino at the Mini Estadi this afternoon, Barça B saw all their dominance and initiative come to naught as an ultra-defensive, well organised and practical Deportivo made good their first minute goal – virtually their only chance all game – to take the points.
Early setback
It was the worst possible of starts for Barça B, as without a minute of kick off, Culio picked up a loose ball in the box and fired past Masip. With injuries and international commitments limiting Eusebio's choices, the locals went out with an unfamiliar looking line up, including Ilie and Planas at the heart of the back line, despite neither of them being out and out centre halves, and the early goal was a tough blow for the youngsters, which momentarily put them off their stride.

Deportivo park the bus
After their goal, Deportivo parked the bus and let Barça B make the running , but Eusebio's players found space at a premium. In the middle, Samper, Espinosa and Edu Bedia gradually began to impose their rhythm on the game, but chances were few and far between, with Denis Suárez, on 41, setting up the best of the half, with a brilliant move down the left before crossing for Dani Nieto who shot straight at the Deportivo keeper from close range.
Suarez free kicks come close
Deportivo were being pinned right back in their own half and three free kicks from the edge of the area by Denis Suárez came so close to equalising – with the first two shaving the woodwork. The Galicians showed their experience though and were able to slow down the game with continual interruptions.
Eusebio brought on Adama and switched to 3-4-3 for the last 20 minutes and the young winger tested the veteran Deportivo full back Manuel Pablo, most notably when he beat him and sent over a cross for Sandro on 74 minutes, only for the shot to go high over the bar. The visitors' keeper again brought off a great stop from an Ilie drive from the edge of the area, but the 5,800 fans at the Mini weren't going to see their team score, as Deportivo went even further into defensive mode with the entry of Marchena to make a five man defence and held out for the points, despite Barça B's brave efforts.