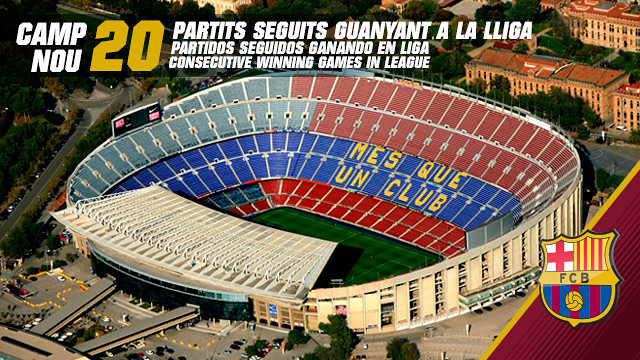 In these twenty games they have scored 73 goals and conceded 17
The most common result has been 4-1, which has been the outcome on four occasions
When Barça fans head to the Camp Nou every fortnight or so to watch a league match, not only do they know that they are guaranteed tremendous football, but they can also be fairly certain that their team is going to win. All twenty of Barça's last home fixtures have ended the same way: with the home team taking all three points.
In these games, the Barça fans have been able to celebrate 73 goals, an average of 3.65 a match, and have only leaked 17, just 0.85 per game.
4-1 the most common outcome
This stretch of games dates back to November 3, 2012, and in this time the most common scoreline has been 4-1. The games against Atlético Madrid and Malaga last season and against Real Sociedad and Valladolid this term all ended that way.
Barça haven't failed to win a league game at the Camp Nou since October 7, 2012, when Real Madrid held them to a 2-2 draw in the clásico. The last home defeat was also in a clásico, when Madrid won 2-1 on April 21, 2012.
Similar records for Tito and Tata
The first fifteen of Barça's winning streak at the Camp Nou contributed to the spectacular run-in to winning the league with 100 points. That was under Tito Vilanova, with Barça scoring 53 and letting in 12, an average of 3.53 goals a game for and 0.8 against.
Under Tata Martino in 2013/14, Barça have continued their 100 per cent home record, scoring 20 goals in five matches (4 a game) and conceding 5 (1 per match).