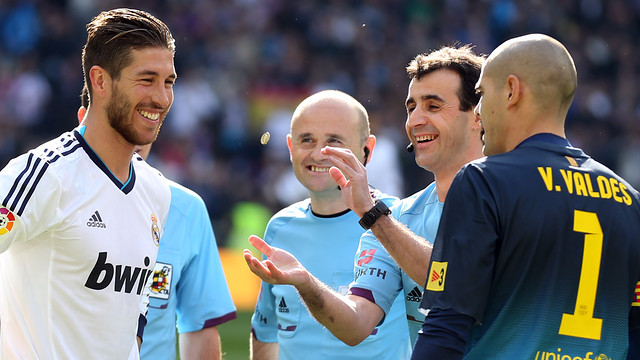 FC Barcelona have scored, shot on target and possessed the ball more than Real Madrid
But look out for Madrid in the last quarter of an hour – and they're also comeback kings

They do say that it matters not a hoot what kind of form Barça and Real Madrid have shown prior to a clásico. In these games, the formbook goes out of the proverbial window. But it doesn't hurt to have a glance at their recent form ahead of the clash of giants at the Camp Nou. So here we analyse their stats in the first nine games of the Liga season.
• Barça getting the goals. Not only have FCB scored the most goals out of all 20 teams in the first division, but they have also leaked the fewest. Real Madrid are third on both counts, each time a place below Atletico, with 19 goals for and nine against.
---
• FCB taking the chances. FC Barcelona is the most effective team in the tournament, having turned 22.4% of their shots into goals, followed by Atlético Madrid (19.1%) and Villarreal (17.4%). Real Madrid may have shot more times than any other team, but only 12.8% of those efforts have found the net.
---
• Messi and Ronaldo calling the shots. It is no surprise to learn who shoots the most in these two teams. Cristiano Ronaldo has made 80 attempts, and 30 of them have been on target. Leo Messi, who has missed two games through injury, has taken 'only' 36 shots, but 21 of those have been on target.
---
• Fight for possession. These are two of Europe's four teams that have had the most possession. FC Barcelona are second in the ranking with 69.1%, and Real Madrid are fourth with 62.48%. Pep Guardiola is clearly making his mark on the way Bayern Munich play, for they top the list (71.51%), with PSG (63.12%) slotting into third place.
---
• Get Neymar Jr. The Brazilian has been on the receiving end of the most fouls in this league season so far. He's faced 34 of them, which has much to do with the way he creates danger with his solo runs, of which he has made 32, the same as Messi, and a tally only bettered by Brahimi (Granada).
---
• Barça off to strong starts. FC Barcelona are mainly a first half team, with 17 goals in the first 45 minutes. They're particularly likely to score in the first (6 goals) and third (7 goals) quarters of an hour. Real Madrid have scored ten fewer first half goals than FC Barcelona.
---
• Madrid bouncing back. But second halves are Real Madrid's speciality, with 12 goals in this period, as opposed to Barça's 11. It is from the 75th minute that the all-whites particularly come to life, which is when they've got 32% of their goals (6). They have also ended up winning 60% (3 out of 5) of the games in which they have gone behind at some point. Barça have only come from behind against Valladolid.
---
• Few cards on the cards? The referee will be Undiano Mallenco, who has not shown a single red card in the four games he has officiated so far. He has awarded 113 fouls and just one penalty, and only brings out his yellow card an average of 3.25 times a match.