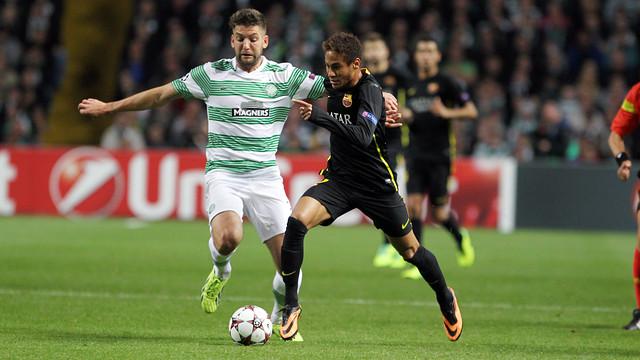 The Brazilian led the Barça attack and caused Brown to get sent off
Celtic Park saw Neymar heavily involved in the final third
With Messi out injured, it was the ideal moment for Neymar Jr to shoulder the responsibility. On Tuesday, the Catalan sports newspapers were full of headlines to that effect. The Brazilian answered with what was certainly his best performance since joining the Club in the summer (0-1).
Neymar's performance can be summed up in three words: involvement, daring and verticality. He constantly made himself available for the pass, took on his marker and beat him. He clashed with Scott Brown in the 57th minute forcing the Celtic defender into a clumsy tackle that was punished by a red card.
An attacking threat
Neymar Jr spent most of the match on the left of the Barça attack and was the visitors' main attacking threat. He was involved in 105 moves, matching his personal best established against Sevilla. He completed 56 of his 70 passes – again a personal best. He went past his marker on eight occasions in thirteen attempts.
As many shots as Celtic
His 14 passes that failed to find a team-mate were a small price to pay for his overall contribution. He provided the pass to Alexis that led to Cesc's winning goal. He suffered the most fouls (4) and produced the most shots (5). In fact he fired off as many shots as the entire Celtic team.
His third full match
Neymar Jr has been the focus of attention for fans and media alike but Martino, has insisted on easing him into the side bit by bit. The game against Celtic was only the third time this season that he's lasted the full 90 minutes, following the away leg of the Spanish Super Cup against Atlético Madrid (0-0) and the league match against Sevilla (3-2). However, the Celtic game was definitely his best so far.