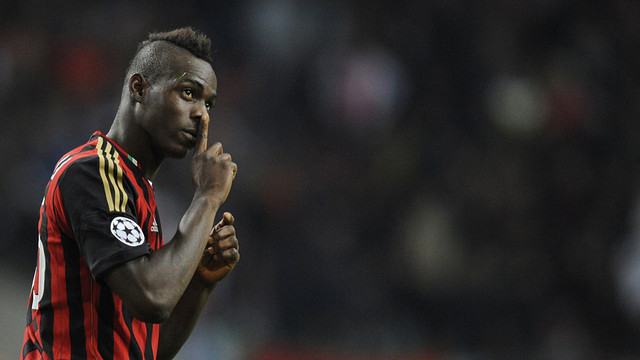 The Rossoneri have incorporated new players to its roster this season
Barça's next Champions League rival have a powerful attack and they're currently looking for more stability on defence
AC Milan, Barça's next rival in the Champions League, are continuing with the policy to rejuvenate their roster which started two seasons ago. The Blaugrana got a taste of it last season, when the two teams faced off in the Round of 16 of the competition. This season there a few new faces in the squad managed Massimiliano Allegri.
New attacking options and big transfers
Perhaps the most impactful addition to the team is Mario Balotelli. The Italian forward arrived to AC Milan halfway through last season but he wasn't able to feature for the Italian team in the Champions League, which meant he watched the tie against Barça from the stands. Now, despite struggling with muscle issues, he's Milan's most dangerous weapon. He lines up with the talented El Shaarawy to make an imposing attacking line.
However, even with the addition of Balotelli, Allegri's team has been best reinforced in the midfield. Kaká (Real Madrid), Matri (Juventus), and Saponara (Empoli), are three examples. The midfield's muscle is provided by De Jong and Muntari while the creativity is brought by Montolivo and Robinho.
On the other hand, some players have been transferred out, like Kevin Prince Boateng, who scored twice against the Blaugrana in as many seasons. In addition to Boateng, Ambrosini and Yepes have also left the Rossoneri.
Changes on the wings
Undoubtedly, Milan's biggest challenge this season has been its defence. The Italian team's defensive line-up in the last two matches against Barça were Abbiati (keeper), Abate, Mexes, Zapata and Constant. This season, Allegri continues to use the same pair in the middle (Mexes-Zapata), but the left and right back positions have been taken over by Emanuelson and Zaccardo. Milan's newest addition to the team, Adil Rami (Valencia), cannot feature for the team until January.
Currently, the team have yet to find the necessary consistency to threaten the top of the Italian league table. After seven matches, Milan are 12th, 13 points adrift of Roma, with 13 goals scored and 13 against.