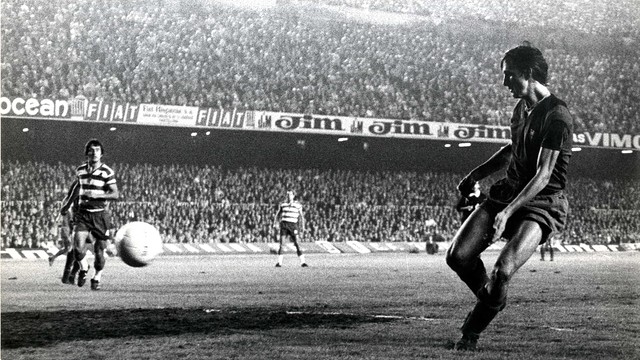 Cruyff had to wait two months to make his debut after bureaucratic problems with his transfer.
The Dutch master scored twice in his first game against Granada.
40 years ago today, Johan Cruyff made his league debut with FC Barcelona – 28th October 1973 – when the then world number 1 helped Barça beat Granada 4-0.
Cruyff was signed on 13th August 1973 after a long negotiation with Ajax Amsterdam undertaken in large part by Armand Carabén. However, bureaucratic problems meant that the Dutch star could not make his official league debut for another two months.
Memorable debut
The day for Cruff's debut finally arrived in round eight of the 1973/74 season just a day after the Dutch Federation's transfer permit finally came through. The Barça fans were hungry to see their new signing in action, as the team were floundering down in 14th place, four points behind leaders Valencia with just six.
All the hopes surrounding Cruyff's arrival were met, as in front of a packed Camp Nou, Cruyff led the team to a 4-0 win over Granada with two goals. Rexach's injury meant he missed that game – he was replaced by Juanito- and that meant that coach Marinus Michels couldn't put out what was to become his legendary line up of Sadurní, Rifé, Torres, Costas, De la Cruz, Juan Carlos, Rexach, Asensi, Cruyff, Sotil and Marcial – a team that ended the season as league champions, eight points clear of second place Atletico Madrid.